Athlone IT Launches Polymer Engineering Scholarships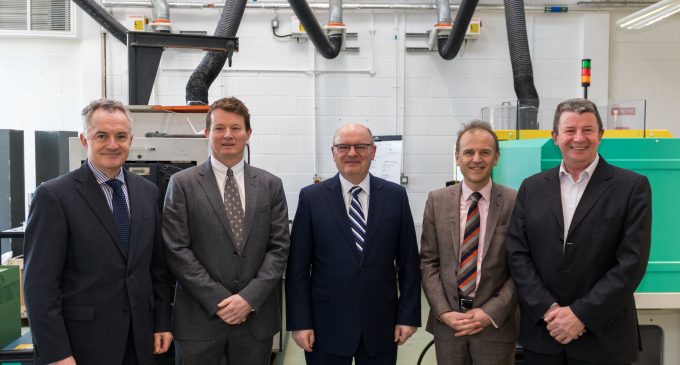 A persistent shortage of polymer engineering talent in Ireland has prompted the launch of a new scholarship programme, Athlone Institute of Technology announced on Thursday. The JL Goor Polymer Engineering Scholarships, sponsored by the Institute of Materials, Minerals and Mining (IOM),  will enable two CAO applicants to pursue a polymer degree qualification while receiving a bursary of €1,000 for each for their three years of study.
"The polymer processing industry is one of the few manufacturing sectors that is really thriving and it is in need of high calibre students coming through to fill the demand from companies," Sales Director at JL Goor Materials Joe Wall said. "AIT have a long tradition of supplying well qualified polymer students and we want to continue to foster and recognise this excellence"
There is currently a shortage of polymer graduates in the industry according to both the Forfas/Expert Group report on the Future Skills Requirements of the Manufacturing Sector to 2020 and the Action Plan for Jobs 2013. Career opportunities for graduates in the sector's 250 companies are exceptionally strong, given that 18 of the world's top 25 medical device companies are located in Ireland, alongside a thriving indigenous base.
"We know first-hand the value of this course as we have three past students employed, "JL Goor Director Louis Goor said. "The growth of our industry is dependent on a continuous flow of able, ambitious polymer engineers and we hope to encourage this with these Scholarships."
Mechanical and Polymer Engineering is one of the most popular courses in the Faculty of Engineering & Informatics in the Institute due to the huge industry demand and guaranteed jobs at the end of the degree programme. The polymer/medical devices sector in Ireland is thriving and is recognised as one of the fastest developing in the world. In excess of 250 companies are currently developing and manufacturing a diverse range of medical devices and diagnostic products. The sector employs a highly skilled workforce – over 45% of employees in the medical device sector are qualified to graduate or postgraduate level.
AIT Dean of Engineering & Informatics Austin Hanley said: "The scholarships provided are further endorsement of the importance that graduates of this programme are to the Plastics and Polymer industry. It is clear that AIT are national leaders in both graduate and post-graduate polymer education. I hope that such endorsement will alert Leaving Certificate students to the opportunities available to graduates".
He went on to say that the Mechanical and Polymer engineering honours degree programme is tailor-made for the expanding medical device and polymer processing industries and that graduates are in very high demand. The programme which has extremely close ties with industry also enables students to undertake an 8 months placement commencing in January of year 3. The placement will facilitate students in gaining an insight into industrial practices in their area of specialisation.
The scholarships are awarded from the IOM and JL Goor. The Scholarship will be awarded based on Academic Merit & Personal Achievement. The scholarship recipient shall receive a bursary of €1,000 for each of the remaining three years of study towards a polymer engineering degree pending continued good academic standing.