Avondale Heights Social Housing Development Launched in Wicklow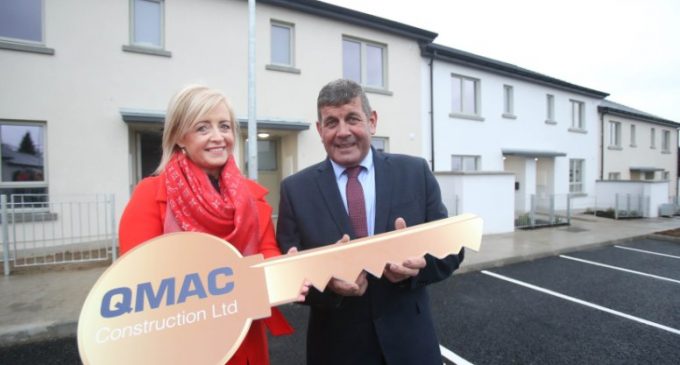 20 families have received an early Christmas present of a new home following the official opening of a new social housing development in Rathdrum, County Wicklow. The Avondale Heights development consists of 8 one-bed, 10 two-bed and 2 three-bed homes. The high-quality homes were constructed by Northern Irish contractors QMAC Construction Ltd, a company specialising in commercial, heritage, sports and leisure, education, health and social housing projects across Ireland since 1982. The project consultancy team comprised Coady Architects, Hayes Higgins Partnership and O' Reilly Hyland Tierney & Associates.
The provision of these twenty homes is the first of many schemes being developed in County Wicklow under the Council's building and supply programme. The new homes have been built around a beautifully landscaped open area and includes external amenity pathways with benches and rest areas for residents. Locally sourced Wicklow granite stone was used in the boundary walls of the development, and all the houses within are highly energy efficient, achieving a BER of A3 for the majority of homes using high efficiency air to water heat pumps, resulting in reduced running costs.
Each home has internally built feature walls with acoustic insulation, and all windows and doors are made of the highest quality factory applied painted timber to provide a neutral low maintenance interior, with powder coated aluminium cladding externally to avoid weathering and reduce maintenance. Each highly insulated home has its own 270-litre rain harvesting capability which serves the planted area of the development, while a waste management plan was developed and the contractor was required to adopt and develop it to ensure waste was minimised, segregated and reusable where possible.
Speaking at the official opening of Avondale Heights, Rhona Quinn, Chairperson of QMAC Construction Ltd, said: "QMAC has taken on many social housing projects since we created the company in 1982, and we look forward to providing many more much-needed homes throughout the island of Ireland in the coming years."
Over the course of the next two years, Wicklow County Council's programme is expected to deliver new homes for almost 400 households on the social housing list. The Council currently has 18 projects at various stages of construction and tendering with funding of over €51.6 million sanctioned by the Department.
CAPTION:
Pictured at the launch of the Avondale Heights social housing development, constructed by QMAC Construction Ltd, in Rathdrum, County Wicklow, were Rhona Quinn OBE, Chairperson of QMAC, and Minister for State, Andrew Doyle TD.