Bright sparks: Craft-skills project expanded across island of Ireland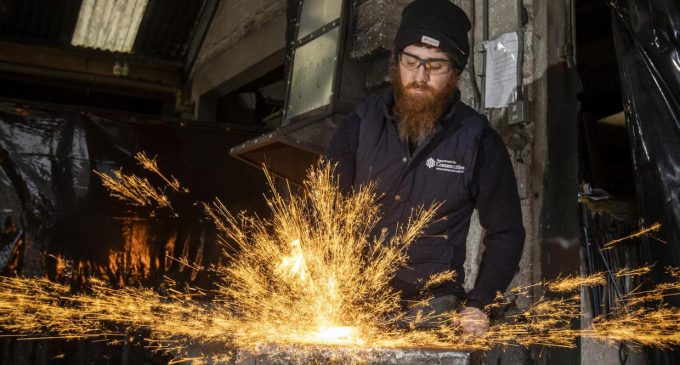 A pilot project to revive the ancient craft skills needed to maintain historic monuments and buildings is being expanded across the island of Ireland.
The bursary scheme initially saw six students undergo an almost year-long training course in Northern Ireland to learn the stone masonry, thatching, metal forging and woodworking techniques required for heritage restoration work.
Six students with skills and experience in building trades successfully applied to undergo the specialist training.
The bursary scheme is now being widened to all of Ireland and similar training will be run in conjunction with the Heritage Council in the Republic of Ireland.
The six students who participated in the pilot were based at the Historic Environment Division's heritage depot in Co Down which repairs items from 186 historic momentums and buildings across the North.
The depot houses a blacksmith's forge, stone-cutting workshops and woodworking rooms that are used in the never-ending efforts to preserve and restore the region's physical history.
Of the six students who took the training, three have already secured jobs with the division and are now working full-time on heritage maintenance, while another is due to join soon.
The other two have secured similar roles elsewhere.
Louis Emmett (52) from Belfast had spent his working life as a bricklayer before entering the bursary scheme.
He said working on restoration has required a "completely different mind-set".
"With the heritage, if you go too quickly you could destroy something very easily. You have to take care and just take time and consider what you're doing more than anything.
"You're trying to preserve things for the future generations and to keep it in as best possible condition as you can for them."
Philip O'Neill, head of State Care Operations for Historic Environment Division, said the expansion of the project would deepen the talent pool needed to maintain historic sites for decades to come.
Ben McCabe, who is originally from Co Cavan, will lead the All-Ireland Heritage Skills Programme for The Prince's Foundation.
"Craft skills training is needed to create a shared network of practitioners and specialists in the heritage building craft sector who can work across the whole island of Ireland," he said.
"Not only are these skills essential in ensuring appropriate repair and maintenance of heritage buildings can take place, they are also an opportunity to demonstrate how local materials and local knowledge can be utilised in the future as we strive towards a more sustainable world."
Source: Independent.ie