Brooks to Reduce Energy Bills by €90,000 by Switching on to Smarter Lighting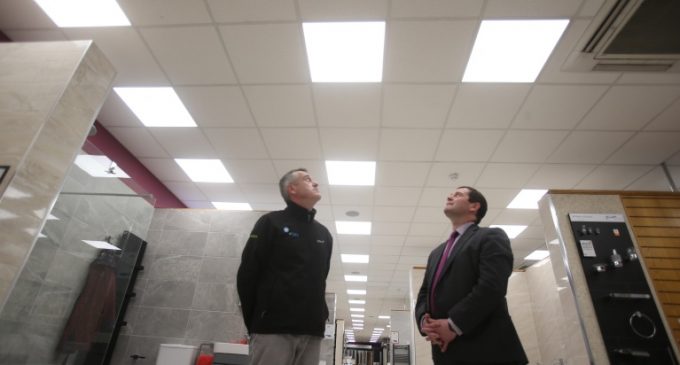 Brooks, one of Ireland's longest established timber distributors and builders merchants, will reduce their lighting costs by over €91,000 per annum by switching to energy efficient LED lighting. This will be a nearly 70% reduction in energy costs. eLight, the LED lighting experts, installed over 1400 new lighting products in Brooks 7 stores nationwide. These installations were carried out at no upfront cost to the businesses. The capital is paid from a portion of the energy savings over the next three years.
Not only will Brooks save money, they will also significantly reduce their carbon footprint. In total Brookes stores will reduce their CO2 emissions by 330 tonnes. That is the equivalent of over 800,000 miles worth of driving in a standard family car or as much carbon as 8,500 trees would capture in ten years.
Brooks Timber and Building Supplies Ltd is an Irish institution, founded in 1823 and serving the needs of Ireland's construction sector since.  Brooks operates in seven locations around Ireland including Dublin, Cork, Galway, Tullamore and Sligo.  Brooks offers expert advice and wide range of quality products to both the building professional and those doing DIY jobs at home.
The decision to install energy efficient lighting is already paying dividend according to Brooks  Director Liam Fallon: "Lighting is an important part of our business. We want to show our products looking their best. Inside and outside our stores we use a lot of lighting. eLight installed over 1000 lights in our stores. In the weeks since that work has been completed we have already saved thousands of Euro on energy costs. When we can cut costs without cutting quality and service, that means we can improve competitiveness and strengthen our business."
Among the clients for which eLight has completed projects are IRES REIT PLC, Hibernia REIT PLC, Euro Car Parks, The Dalata Group PLC and some of Ireland's leading Manufacturing and Property Management Companies.
Commenting on the partnership with Brooks, eLight Managing Director, Ian McKenna said: "Brooks are one of Ireland's oldest and most trusted businesses. Every day, their teams help builders and home owners, many of whom are looking to improve the energy efficiency of their property. When Brooks wanted to reduce their energy bills, we were delighted that they came to eLight. With ongoing savings of nearly 70% per annum, this upgrade will be delivering for many years to come."
The eLight model makes it easy for businesses to reduce energy costs. eLight invest 100% of the capital cost associated with the design, supply, installation, operation and maintenance of energy efficient lighting projects over an agreed contract term, with the energy savings achieved completely funding the project. There is no requirement for up-front capital from the business adopting the technology.
eLight works with market leaders such as Philips and Actavo, ensuring the highest standards in lighting, design, installation and operation, which are backed with industry leading guarantees and warranties. Energy savings are achieved by improving quality, not by compromising on it.
CAPTION:
Pictured (L-R): Ian McKenna, Managing Director of eLight, with Liam Fallon, Director of Brooks.