Builders Merchants Urged to Enter New Style Octabuild Excellence Awards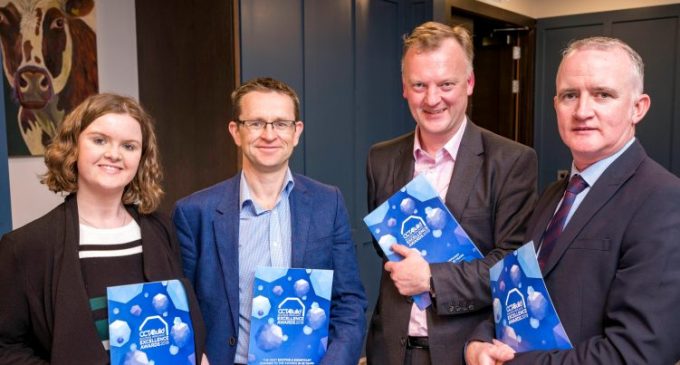 Builders merchants are being urged to enter the Octabuild Builders Merchant Excellence Awards 2019 by going online now to www.octabuildawards.ie. The Octabuild Awards, which have been acknowledging the best in the builders merchant trade for 35 years, have been revamped for 2019 with a number of progressive changes that take account of key developments in the builders merchant trade.
A renewed focus on excellence ensures that the Awards reflect the modern builders merchant sector in terms of business management, customer service, sales & marketing, innovation, leadership, diversity, partnership and communication.
Major changes in the entry process mean that builders merchants can now choose to not only enter for the Regional and National Awards but also for individual Category Awards. They can enter in a number of ways – online, by email or by post – and the entry form can be accompanied with visual information in the form of printed material, video or links to digital and social media channels. This provides merchants with an opportunity to tell their story and highlight the areas of business that they excel at.
Significant changes have also been made to the judging process and the category awards. There will now be a judging panel of three independent judges who will assess all entries and then visit shortlisted entries.  These visits will be comprehensive and last up to 90 minutes in each store.
In addition to the established National and Regional Awards, merchants can now enter up to five individual award categories. They are Excellence in Business Management, Excellence in Sales & Marketing, Excellence in Customer Service, Excellence in Sustainable Business and Excellence in Community Outreach. A new Rising Star Award will also allow builders merchants to acknowledge the up and coming talent in their business.
Octabuild members are Dulux, Glennon Brothers, Gyproc, Instantor, Irish Cement, Kingspan Insulation, Tegral Building Products and Wavin and all shortlisted merchants will be their guests at the awards ceremony in the Aviva Stadium on 7th November 2019.
Details of the new style awards were unveiled recently at a series of launch events in Cork, Dublin and Athlone. Octabuild Chairman, Mark Filgate said:  "It's important that the Awards highlight to the building and construction industry the excellence of Irish builders merchants.   Over the years builders merchants have told us that entering for the Awards and particularly being shortlisted or winning has been a great staff motivator, provided an additional marketing tool and brought valuable positive feedback from their customers.  The changes made this year have been done in consultation with builders merchants and we believe will enhance the benefits for those builders merchants who enter."
Builders merchants can enter the Octabuild Builders Merchant Excellence Awards 2019
        Online at www.octabuildawards.ie
        Download entry form at www.octabuildawards.ie and email info@octabuildawards.ie
        Download entry form at www.octabuildawards.ie and post to Octabuild Awards, Huband House, 16 Upper Mount Street, Dublin 2.
Closing date for entries is 1st July 2019.
CAPTION:
Pictured at the Dublin launch of the Octabuild Builders Merchant Excellence Awards 2019 were (l-r): Aoife Kinsella of HAI, Octabuild board member Ray Molyneaux of Irish Cement, Andrew Hewat of GMROI, and Alan Donohoe of Tegral Building Products.