Construction hits €5.6bn value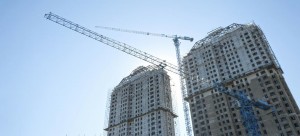 The total value of new construction projects in Ireland rose by 68% last year as activity in the sector continued to pick up.
According to a new report from Construction Information Services (CIS) which measures activity in the property sector, builders broke ground on 2,213 new projects worth €5.6bn during 2015. That is a huge increase on 2014's 1,437 projects.
But the number of new homes being built is far below the levels needed to ease the housing crisis, with less than half the number of new homes needed being built at present.
The report, which excludes projects such as one-off housing or fire safety certificate work, tries to quantify big ticket projects around the country.
Perhaps unsurprisingly the Dublin area dominates.
The CIS data shows the city and its surrounding area accounted for an estimated 53pc of all projects. That percentage fell slightly though year-on-year, in a sign that the recovery is starting to be felt beyond the city.
In 2014, 56pc of new projects were being carried out in Dublin. Its dominance continues in the value of new projects for which planning permission is being sought, but again, the proportion is lower than this time last year. About 54pc of the value of all projects that received planning approval were located in
Dublin during 2015 – down from 63pc in 2014.
The CIS noted that this change "can partly be explained by the Project Cherrywood application, so when total number of projects are looked at, this statistical skew can be seen".
US investment giant Hines submitted plans for a €2.5bn development at Cherrywood in west Dublin.
The figures show that residential development jumped 150pc during the previous 12 months, with projects worth €1.5bn on site now. But construction is still far behind what is needed in the country to ease the housing crisis.
The data shows that 4,706 houses went "on-site in 2014 and in 2015, house building increased to over 11,000". Most analysts estimate the country needs about 25,000 new homes every year to meet demand. But even the new projects are moving forward slowly. Many going on site this year are doing so on a phased basis only and are not all coming on stream immediately, the CIS said.
The crisis shows no sign of improving. "It is anticipated that approximately 12,000 units will be built in 2016, which is less than half of that required to meet normal demand," the CIS said.
Meanwhile former Dublin Airport Authority chief executive Margaret Sweeney, inset, has joined IRES Reit as a non-executive director. Ms Sweeney is also a former head of PostBank. She was president of the Dublin Chamber of Commerce from 2008 to 2009.
IRES has also named Phillip Burns as a non-executive director. Mr Burns is the founder of Maple Knoll Capital and was CEO of Corestate Capital as well as being a senior executive with private equity giant Terra Firma and Goldman Sachs.
He was also a corporate attorney at the giant US law firm Skadden Arps.
Elsewhere, IRES chief executive David Erhlich took home €753,000 in pay and bonuses last year as the listed property firm ramped up its property purchases in Ireland.
The company is the biggest private landlord in the country.