'Construction sites will not be closed again,' minister vows as targets missed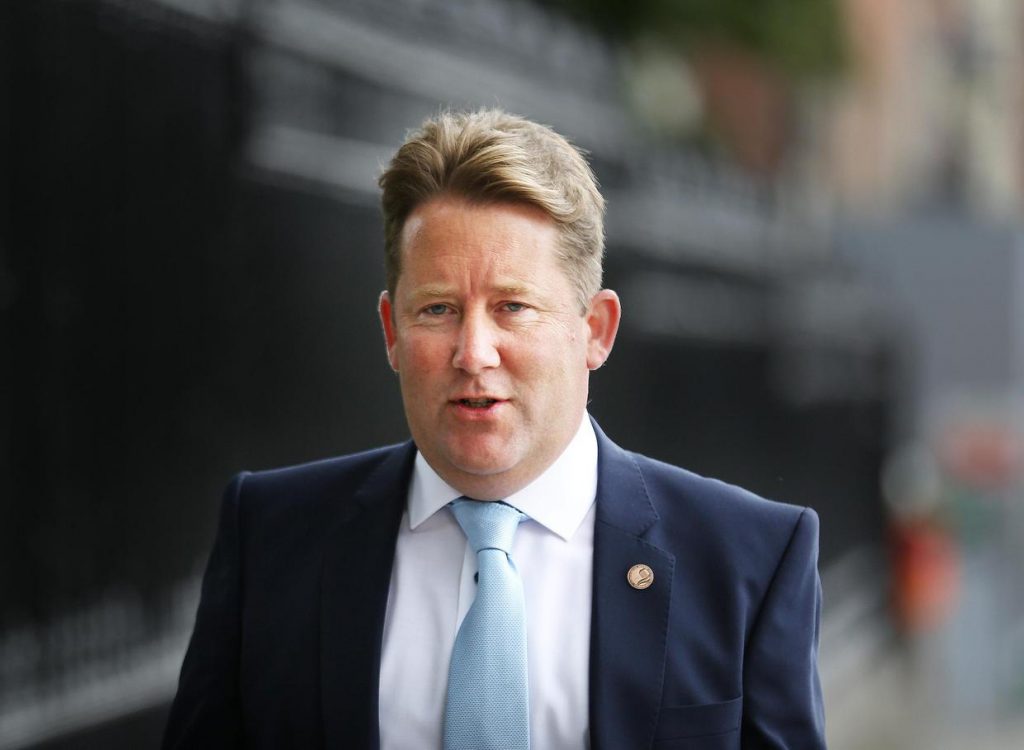 Housing Minister Darragh O'Brien has said building sites will not be closed down again as Covid-19 infection rates soar.
Mr O'Brien said sites "can't be closed again" as part of any new restrictions while the housing crisis deepens.
He revealed 800 houses a week were lost during four months of the building sector shutdown.
Mr O'Brien also said the Government was bringing in new legislation to clamp down on rogue builders so that scandals such as homes crumbling due to low-grade mica or pyrite blocks were not repeated.
He has further promised that despite all housing targets being missed this year due to the shutdown, the sector will ramp up its delivery of homes next year.
Mr O'Brien said that every week building sites had been closed this year, around 800 houses were lost.
The Government failed to meet every single housing target, with progress blamed on construction sites reopening only on April 12.
"Construction will not be closed again, and it can't be. We lost 800 houses a week for every week of shutdown," Mr O'Brien said.
"The provision of homes for people, in my view, and in the Government's view, and this is the Taoiseach's view too, is an essential service."
He added that the construction industry had worked to make building sites "Covid-proof".
"The construction sector has shown that they can operate, they manage risk well, they've actually changed their work practices to deal with Covid with minimal outbreaks on construction sites," he said.
Budget 2021 promised the delivery of 9,500 new-build social homes, but in the first nine months of the year only 3,144 were built.
Despite 350 cost-rental homes being promised, only 90 will be delivered, and while 170 vacant homes were to be renovated under the Repair and Lease scheme, only 39 were finalised in the first nine months of the year.
Not one affordable purchase home was delivered this year, despite the minister saying in October that eight would be delivered out of a fund of more than €300m.
Mr O'Brien admitted targets will not be met this year.
"They're Q3 figures and we'll have further delivery in Q4," he said.
"The targets are annual and there's no question – and I've been very open about this – they are not going to be met.
"We had a construction shutdown until April 12. And then we need time to get the capacity back and open the sector – you don't just switch it back on like a tap."
The minister said there had also been "supply chain issues", and added that more social housing would be built next year. He cited "over 5,000" but did not "have the figure yet".
Mr O'Brien said that next year 4,100 cost-rental and affordable purchase homes would be delivered.
The State will aim to deliver 24,600 new homes next year, gradually working its way up to 33,000 a year and more as per the Economic and Social Research Institute (ESRI) advice of 33,000 homes each year.
When asked how it is believable the State would build tens of thousands of homes next year when all targets had been missed in 2021, the minister said he "stuck to his guns".
"I actually see the pipeline of homes, because I stuck to my guns on shared equity, when you know, because I believe in it, because it will work," he said.
"Housing for All was launched in September. It's the first housing plan any government has launched that's fully-funded on a multi-annual basis. I won't have to go back and look for capital."
The Government is set to clamp down on rogue builders by making it statutory for construction workers to be registered.
In a bid to prevent further crumbling homes caused by defective mica or pyrite blocks, or by defective Celtic-Tiger era apartments, all builders must be registered under new laws being brought in next month.
Currently, builders can be registered on a voluntary basis.
Mr O'Brien said that while there had been "improvements" in the quality of housing in recent years, the Government needed to make sure it was addressing "legacy issues".
Under the new rules, all companies providing building services will have to legally register with the Construction Industry Register Ireland (CIRI).
Cabinet ministers recently approved the publication of the Regulation of Providers of Building Works Bill 2021, and this new legislation will put the CIRI on a statutory footing.
While there are already 800 building and contracting entities on the register, the Government expects at least 5,000 will be required to sign up once it is made a statutory requirement.
Builders of both residential and non-residential buildings will have to register and they will be subject to the new regulations.
Employees of building firms will not be required to apply but sole traders will. Builders will be deemed eligible to register through qualifications, experience or a combination of both.
"I believe that people should also know that the builder that they seek, or that they may employ to do work in their home, or indeed to build a home, is qualified to do that," the minister said.
He added that the Building Standards Authority would oversee all building standards.
Mr O'Brien insisted the move had been "welcomed by the people in the trade" because they would be "qualified to do a good job".
"We're proud of the work that they do and it should be recognised for that, but they shouldn't have to compete with, basically, the cowboys out there. And I think it will help," he said.
The minister added that the legislation was "pretty much ready" and would be published next month.
While he is keen to retain his portfolio in an upcoming cabinet reshuffle after Leo Varadkar becomes the next taoiseach, he said four years was "enough time" to make progress in solving the housing crisis.
"To fix it totally? No, and look to make real progress that people can see, you know, we're building more homes than we have done before, we've got our delivery of more social homes than ever before, we have thousands of affordable homes, and people can see affordable housing schemes working and see cost-rental working," he said.
With such a heavy workload, Mr O'Brien ruled out bidding to be the next leader of Fianna Fáil any time soon, saying Taoiseach Michéal Martin would lead the party into the next election.
Source Independent.ie