Dún Laoghaire-Rathdown County Council Delivers Social Housing Under Rebuilding Ireland Programme
Dún Laoghaire-Rathdown County Council has delivered a further 12 homes as part of its housing delivery target of 1,563 social housing homes by 2021. The homes were designed and built by John Sisk & Son on a brown field site, to a rapid delivery programme.
As near Zero Energy Buildings 'nZEB' will become mandatory for all housing stock in the near future these homes demonstrate how this can be achieved cost effectively, to a rapid build programme on a difficult site. The homes are designed and built to a very high specification, taking advantage of some of the latest innovations and technology in house building, resulting in ultra-modern, energy efficient and high quality homes.
The development consists of twelve houses in total, ten 2-bed terraced houses and two 2-bed semi-detached houses, located in the centre of Dún Laoghaire, at George's Place. This development has provided much needed dwellings built to the highest environmental standards in keeping with our ethos of providing bright, spacious, comfortable accommodation, with superb indoor air quality and low running costs for our tenants.
These homes within this prototype development will be allocated to dlr tenants in the coming weeks.
Speaking at the launch of the new homes, An Cathaoirleach of dlr, Councillor Tom Murphy, said: "In setting out our ambition for this project dlr wanted sustainably designed and well-constructed, quality houses which achieved a BER A1 energy rating. We are delighted with the open, transparent and collaborative relationship we developed with our construction partner, John Sisk & Son, who have delivered on all fronts – safe, quality, on budget & timely delivery. The provision of social and affordable housing is the Council's main priority and we are delighted to formally take possession of these houses today and look forward to getting families settled into their new homes."
Stephen Bowcott, CEO of John Sisk, commented: "Dún Laoghaire-Rathdown County Council had a vision for this prototype development. They wanted it to be constructed with top quality materials which would deliver energy efficient, easy to run and maintain homes, which would add to the architectural heritage of the area. Working in partnership with them and our supply chain we have delivered on that vision in only 8 months – a great demonstration of our house building capability through our dedicated 'Sisk Living' brand. We worked closely with the client and with the local neighbours to the site and the wider community to ensure the development would fit in to the environment and deliver comfortable, energy efficient home for the people who will live in them.
Stephen Bowcott added: "This is our first delivery of Social Houses since 2009 and we are quite proud to confirm that it is being delivered early, by 3 weeks. We have also proven that builders on a design, build and finance basis can deliver homes at a far lower cost than developers who take the risk of speculatively purchasing land up front for the carrot of big margins."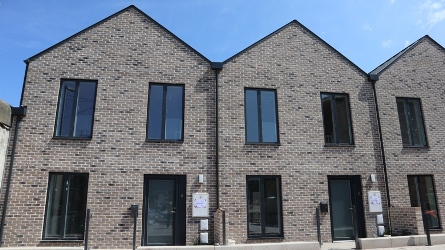 Minister of State at the Department of Housing, Planning and Local Government, Damien English, TD, said: "2018 is a critical year for social housing delivery; a critical year to see the fruits of enhanced capacity building across Local Authorities and Approved Housing Bodies; to see significant increases in the number of new build units being added to stock; to see innovative delivery streams achieving results and to see real impacts for individuals and families across the country. A key priority under Rebuilding Ireland is to increase the level of build on a year by year basis. Local Authorities are absolutely central to the implementation of the action plan. All across Ireland, they are responding to that housing supply challenge and are pushing forward with an ambitious programme of works and we are adding to this list on a constant basis"
Dún Laoghaire-Rathdown County Council is currently active on eight social housing sites across the county, ranging from 2 to 50 homes. Two of the larger sites, Rosemount Court in Dundrum and Fitzgerald Park, Mountown, Dún Laoghaire, will deliver 44 and 50 new dwellings respectively. Both of these developments will be handed over to tenants before the end of the year.
Specification of the Rapid Build Homes
Innovation & Technology
The high quality specification of the overall design is very important in the long term, in relation to the maintenance and management of the development, but also in the interests of the new residents, the sustainability of the development and the quality of the local environment.
Some of the latest innovations in the house building industry were incorporated into this project, all of which add significant value in terms of achieving a sustainable and efficient home, including;
o   Nilan exhaust air heat recovery ventilation system
o   Brick clad facades
o   PV Solar Panels
o   Projecting Alu-Clad Bay Windows
o   Zinc roofing and flashings
o   Triple glazed, argon gas, cavity filled frameless designed Velfac Windows by Novus
o   Granite kerbing.
Sustainability and Energy Performance
This new housing scheme at George's Place has key sustainability and energy efficiency objectives / targets, all of which have been successfully developed and implemented by the Construction Team, including:
Achieving a BER A1 energy rating standard;
Designed for low maintenance with ease of maintenance a key requirement;
Whole life costs were borne in mind when selecting design solutions. Issues which were required to be considered included:
–          Overall extent and quantity of insulation standards and other energy saving design features;
–          Automatic temperature controls;
–          Water conservation;
–          Use of durable sustainable and / or renewable materials is a requirement;
–          The use of non-renewable materials is to be avoided where possible;
–          Flexibility in design for adaptation & extension
–          The building service systems should provide and maintain a comfortable indoor environment with minimum adverse impact on the environment and achieve optimum whole life costs.
Renewable technologies were required to achieve compliance with Part L of the Building Regulations (Conservation of Fuel and Energy in Dwelling 2011) and to provide economical means of heating water / space. The proposals for renewable energy solutions had to be easy to maintain and simple for householders to use.
Two of the standout features of the new houses are the both the heating system and the solar panels, described in brief below:
Space and Water Heating System (Modular Heat Pump System)
Space and water heating system for each dwelling is provided by a standalone heat pump with integrated balanced whole-house ventilation system. The packaged heat pump system comprises an air to air heat exchanger (space heating), an air to water heat exchanger (water heating), an integrated MVHR unit with distribution air ducts (mechanical ventilation with heat recovery), an integrated hot water storage tank (180 litre), and associated controls.
Micro-Generation Photovoltaic System – Solar Panels
Each dwelling is fitted with a Photovoltaic micro-generation system. Electricity generated on-site will be used to supplement the electrical supply in each home. The standalone PV system consists of solar collectors, a power diverter, a hot water optimiser, and associated controls. The PV modules are installed on southerly facing roofs to maximize performance. Each PV system has an automatic immersion heater switching device which will ensure that surplus electricity is directed to the hot water storage tank.