€1.9m for Co Kilkenny site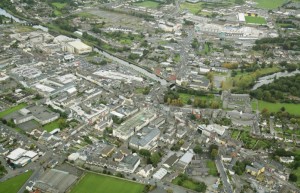 Savills and Warren McCreery Property are quoting €1.9m for a strip of development land outside Kilkenny which has full planning permission for a residential and commercial scheme.
The agents are seeking a buyer for the site at New Orchard Road adjacent to the Kilkenny City Ring Road.
The 20.68 acre site has planning permission for a commercial development as well as nearly 80 homes on the outskirts of the city.
The lands form the undeveloped element of a partially built scheme, comprising planning permission for the construction of 77 three, four and five bed detached houses and a commercial development.
The existing planning permission allows for the commercial part of the development to extend to 1,967 sq m, spread across two two storey and one three storey buildings. The commercial may include a medical centre, pharmacy and retail accommodation.
The property is situated close to the established quality residential estates of Ashfield, Ardilea and The Fairways.
The site is also said to be within walking distance of a range of amenities including Kilkenny Golf Club, Newpark Shopping Centre, numerous primary and secondary schools as well as many local sports clubs.
John Swarbrigg of Savills & Warren McCreery of Warren McCreery Property say they are "anticipating strong demand for this property, from both local and other Irish house builders".
"Strong buyer demand for residential property in Kilkenny is expected to continue for the foreseeable future, where an immediate supply of stock is long overdue with many builders and developers looking to capitalise on the current housing demand within the area," they added.
The development land market has been showing signs of impovement in recent months.
Last month, REA Grimes emerged as seeking €950,000 for a parcel of development land close to Ashbourne town centre in Co Meath.
Those agents have been retained to sell what they describe as a 1.9 acre site which is zoned for residential property.
The land is said to be located in "an excellent location close to Ashbourne Town Centre on Castle Street which links to the main street known as Ashbourne High Street".
"The subject site is adjacent to the residential development of Garden City / Crestwood (which backs onto the site) in total there is approximately 400 homes located in this area," said the agents.
Ashbourne has historically been popular for, among many other reasons, its proximity to Dublin and the large number of amenities in the immediate area.
According to the 2009 to 2015 Meath County Council development Plan, the lands are zoned under the objective A1 which states that any development there should be used to "protect and enhance the amenity of developed residential communities".
Demand for land within commuting distance to Dublin has been growing. Savills and Warren McCreery Property are quoting €1.9m for development land outside Kilkenny.