Grafton expects prices for construction materials to continue rising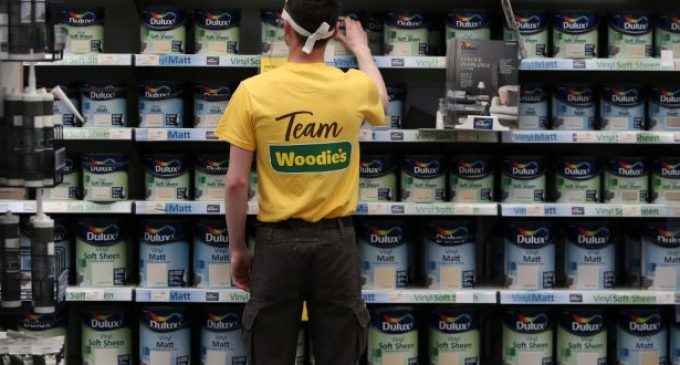 Woodie's owner reports record profits for first six month of 2021.
Prices for key construction materials will continue rising into next year, Gavin Slark, chief executive of Woodie's DIY-owner Grafton Group, predicted on Wednesday.
In an interview after Grafton reported that profits for the first six months of the year hit a record €167 million, Mr Slark said that rising building materials' prices had added 7 per cent to the group's costs this year.
He forecast that the trend, which has hit the industry as a whole, would continue into 2022, but added that the rate of inflation appeared to be slowing.
Mr Slark noted that cement, plaster, timber and steel prices had risen most sharply this year. "Some of it is down to shortages in raw materials, some of it is down to supply chains.It is now significantly more expensive to ship products from the Far East."
He added that European suppliers were also sending goods to the US to take advantage of stronger demand there, particularly for timber.
Grafton's chief executive confirmed that timber prices had risen "significantly" in both Ireland and Britain.
Licensing delays have hit tree-felling in the Republic, which supplies both markets, adding as much as 60 per cent to the price of many timber products, sawmillers say.
Builders hit by the increases calculate that they have added €15,000 to new home construction costs.
Along with timber, manufacturing and supply-line disruptions and surging demand have forced up the price of many building products this year.
Balancing act
Mr Slark acknowledged that some increases were too high for Grafton to absorb, while it was managing the problem with others.
"We always have this balancing act between how much we take on the chin and how much we pass on to our customers," he said. "But we have to keep our prices credible."
Irish-headquartered Grafton, best-known here as owner of the Woodie's chain, has builders' merchants and supply businesses in this country, Britain and Europe.
The group said profit before tax rose 384 per cent to £143 million (€166.8m) in the first six months of 2021.Sales rose 46 per cent to £1.03 billion, while operating profits climbed 257 per cent to £152 million.
The figures exclude results from its British merchanting business, which includes Buildbase, Civils & Lintels, Timber Group and others, which Grafton is selling for £520 million.
The sale, to Huws Gray, a UK firm owned by US investment giant Blackstone, should go through by the end of February, according to Mr Slark.
He noted that Grafton's auditors recommended that as a consequence the group treat the merchanting business's results as "discontinued operations".
Mr Slark confirmed that Grafton was likely to use some of the cash from the sale to buy other businesses. "Acquisitions are very much part of the plan for next few years," he said.
Bolted on
He pointed out that there were opportunities for acquisitions in Europe that would expand the group's reach to new countries, while there were also smaller businesses that could be "bolted on" to Grafton's existing operations.
Grafton recently bought Finnish personal protective equipment maker IKH for €200 million, giving it a first foothold in the northern European country.
Commenting on the first-half results, Mr Slark noted that Woodie's and Irish builders' supplies business Chadwicks performed "really strongly" in the opening six months of the year, despite a lockdown in the first quarter.
He pointed out that Chadwicks' performance came despite a construction lockdown that lasted through the first quarter, while Woodie's benefited from increased DIY spending.
"People were spending more time at home, and more time on their homes," Mr Slark said.
The group's figures show that the combined Irish businesses doubled their first-half operating profit to £31 million this year from £15 million during the same period in 2020. First half profits in 2019 were £23 million.
Grafton will pay an interim dividend of 8.5 pence a share, returning £20.4 million to investors.
Source: The Irish Times