Grafton Merchanting Ireland Launches 2019 Builders' Merchants Sales Traineeship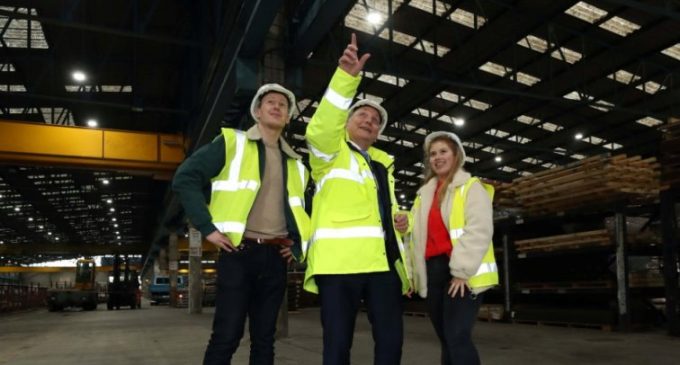 Grafton Merchanting ROI, Ireland's largest builders' merchant, has announced that applicants for its 2019 Builders' Merchants Sales Traineeship programme are now open. This is the second year of the initiative which in its first year saw 10 people (7 male, 3 female) graduate from the 26-week programme.
The QQI accredited programme, is run by Grafton Merchanting ROI in conjunction with the Dublin and Dún Laoghaire Education and Training Board (DDLETB) and aims to create a pipeline of skilled entry level Trade Sales Advisors within Grafton Merchanting ROI brands including Chadwicks, Heiton Buckley, Davies and The Panelling Centre.
Due to its success in its inaugural year, the programme was nominated for an Irish Institute of Training & Development Award in the 'Best Organisational Development Initiative category.
Grafton Merchanting is committed to providing best in class service to its customers across the country. This Traineeship allows Grafton Merchanting to deliver on this, by equipping its trainees with the skills and knowledge needed in trade sales to offer unrivalled product knowledge, first class customer service and ultimately have a long and successful career in the business.
Trainees receive training in customer service, retail sales, IT skills, health and safety, and stock control as well as mentoring from experienced staff in their chosen branches. Trainees also receive a Safe Pass Card and a Manual Handling certificate. *
On-the-job learning will then take up the remainder of the course time with participants assigned to mentors in their chosen branch. It is anticipated that this year Grafton Merchanting ROI will take on the 20 trainees across its Dublin branches as part of this programme. All trainees will be offered interviews with Grafton Merchanting ROI at the end of the programme.
Commenting on the launch of the 2019 programme, Patrick Atkinson, CEO of Grafton Merchanting ROI, said: "Following the success of our inaugural year, we are delighted to announce the 2019 Builders' Merchants Sales Traineeship programme. As a company we have a long and proud history of training and education inspiring lifelong learning throughout the business. As a result, we have a tremendous employee retention rate. Our traineeship programme equips participants with the skills to have a brilliant career in our industry and ensures that our team provides our customers with expert product knowledge coupled with unrivalled product knowledge. We look forward to working with the next group of trainees and wish them the best of luck for their upcoming traineeship."
Award*
Each trainee who completes the traineeship will receive: Minor Awards QQI level 4 in Customer Service (4N1989), Retail Sales Techniques (4N1183( and Workplace Safety (4N1124), Safe Pass card and Manual Handling certificate.
CAPTION:
Patrick Atkinson, CEO of Grafton Merchanting ROI, pictured with Wayne Gilmore, age 23, and Lauren Doyle, age 20, two of Ireland's first trainees as Grafton Merchanting ROI announced 20 trainees being accepted onto Ireland's first Builder's Merchants Sales Traineeship programme.