Grafton's Half Yearly Revenues Rise over 13%, but could Fall due to Brexit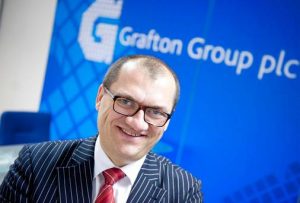 Both builders vendors and DIY merchants Grafton Group have signified "uncertainty about the near term outlook and probability for the economy" in a trading announcement published today.
Though it has operations here, in the Netherlands and Belgium, most of the Irish based company's business is in the UK as is Grafton's stock market listing.
In today's trading update, Grafton said that its revenue for the six months to the end of June rose by 13.3% to £1.23 billion compared to £1.08 billion the same time the previous year.
The company's chief executive Gavin Slark said that the Brexit vote was "likely to weigh on demand in the new housing and repairs, maintenance and improvement markets" over the remainder of the year.
Grafton's UK merchants business, Selco, opened its 42nd branch in Watford earlier this year and has pencilled in further openings between now and December.
But it said that like-for-like revenue growth in its UK merchanting business, excluding the impact of new branch openings, has progressively weakened and fell in June.
By contrast in Ireland, Grafton said it is benefiting from recovery in the economy and increasing repairs and home improvement spending by consumers.
It is also poised to gain from new house building activity, albeit from a low base, the company added.
"The recovery in retail sales in Ireland which gathered pace during 2015 continued into the half year supported by momentum in consumer spending that was reflected in strong revenue growth in the Woodie's DIY business," the company stated.
"Growth in the Irish and the Netherlands merchanting markets is expected to continue broadly in line with recent trends. The group's financial strength and geographic diversity leave it well positioned to take advantage of any opportunities that may emerge across the markets in which it operates," Gavin Slark added.
Grafton said that revenue from its Irish merchanting operations jumped by 19.8% in the six month period, while its UK merchanting revenues rose by 8.2% and its Belgian revenues fell by 7.4%.
Revenues in its Dutch operations rose by 15.5%, and revenues from its retailing division increased by 13.8% while its manufacturing revenues grew by 15.3% in the six months to the end of June.
Grafton Group is primarily an United Kingdom and Ireland-based building products group with 668 branches and a turnover of over £2 billion. They work in the Merchanting, DIY Retailing and Mortar Manufacturing markets.