Heiton Buckley Unveils Newly Refurbished Monaghan Branch
Heiton Buckley, Ireland's leading supplier of doors, floors, bathrooms, garden, plumbing and heating products, has officially unveiled its newly refurbished Monaghan branch. Located in Milltown, the branch was originally opened in November 1984 as Pattons of Monaghan and was owned and operated by David Patton before being acquired by Heiton Buckley on the 14th of October 1996. Now the newly revamped branch, which employs 14 people, has been completely transformed to offer customers more products, a better customer experience and a more accessible layout.
GAA star Conor McManus, CEO of Grafton Merchanting Patrick Atkinson (pictured above on right), Branch Manager Cora Maguire (pictured left) and building contractor and longstanding customer Gary McPhillips officially cut the ribbon and kicked off the celebrations which included a live broadcast by Northern Sound's Joe Finnegan Show.
Overall the showrooms have doubled in size allowing customers to have a more hands on experience with the products. New features include new shelving, a stunning new state-of-the-art bathroom showroom, and a door and floor display which houses the latest styles and top brands on the market.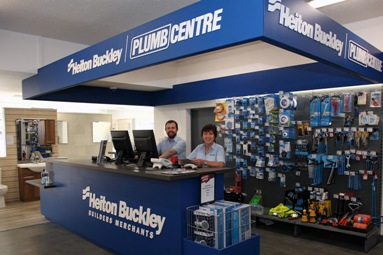 Another key feature is the working display of a heat pump and gas boiler, both of which improve energy efficiency throughout the home. Heat pumps remove the need to burn fossil fuels in the home and reduce your carbon footprint. Coupled with energy saving LED light displays, these key features allow those building or upgrading their home to see firsthand these products in action and their sustainability benefits. New signage has also been added to the store giving the whole brand an upgraded look and feel.
Catering for local builders and DIY enthusiasts in the area, the Heiton Buckley team offers unrivalled product knowledge and customer service. The expert team receives regular training on all the latest product innovations in the construction sector to ensure its customers stay on top of the latest trends in the industry.
As a company, Heiton Buckley has contributed to the fabric of everyday life in Monaghan for over 20 years. Its products and materials have been used in some of the most recognisable construction projects across the county including:
The new Monaghan Institute Education Campus
The new Monaghan Fire Station
The renovation of: Monaghan County Council buildings
Monaghan Courthouse
The refurbishment of the Westenra Hotel and the Hillgrove Hotel.
Commenting on the opening, Cora Maguire, branch manager, said: "The store refit has been created with the customer in mind and we believe the new layout will enhance the overall customer experience. Thanks to our increased floor space, we have added to our product range to give customers even more choice coupled with unrivalled value and customer service. A real stand-out in the newly revamped branch is our state-of-the-art bathroom showroom. Our friendly enthusiastic staff are on hand to assist customers with all their building and renovation requirements and we look forward to welcoming customers both old and new through the doors over the coming weeks."