IPUT Launches the Tropical Fruit Warehouse in Dublin's Docklands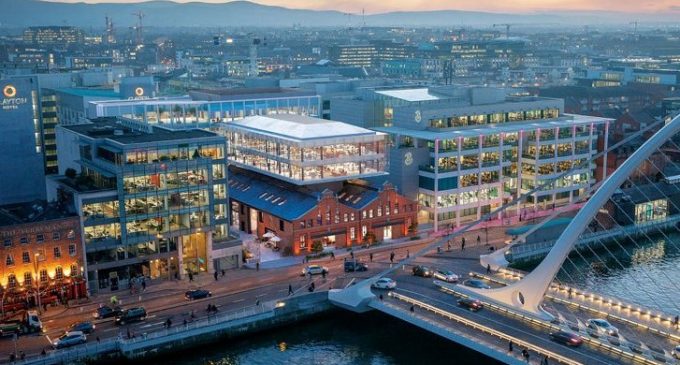 IPUT plc, the commercial property fund, has launched the Tropical Fruit Warehouse, an 80,000 sq.ft. landmark office development on Sir John Rogerson's Quay, Dublin 2 over-looking the Samuel Beckett bridge and River Liffey. 30-32 Sir John Rogerson's Quay is the last remaining original warehouse on the quays and, from 1892, were used for the importation of tropical fruit into Ireland.
The buildings are being redeveloped by IPUT as the Tropical Fruit Warehouse in recognition of this unique history.The transformative scheme, which has been designed by Henry J Lyons Architects in partnership with renowned façade specialists, Octatube, will deliver over 80,000 sq. ft. of unique river front offices centred around a restored warehouse to include a new six storey office block at the rear overlooking a public square. The design incorporates two floating, fully glazed office floors which cantilever over the warehouse building providingunparalleled panoramic views over the River Liffey.
In keeping with IPUT's long term approach to investing, the building has been designed to meet the highest sustainability credentials and will also incorporate a significant investment in the public realm – creating a vibrant pedestrian connection from the River Liffey to Whitaker Square at the rear.
Construction has commenced and is scheduled for completion in Spring 2021.
IPUT Chief Executive, Niall Gaffney, said: "The redevelopment of The Tropical Fruit Warehouse is a great opportunity for IPUT to create a landmark office property that is crafted to optimise flexibility and deliver light filled space with panoramic views over the River Liffey and Dublin's skyline. We are long term investors and as such we have deliberately pushed the boundaries to develop a building that meets the highest global standards in design and sustainability."