Komatsu Forest Delegation Visits McHale Plant Sales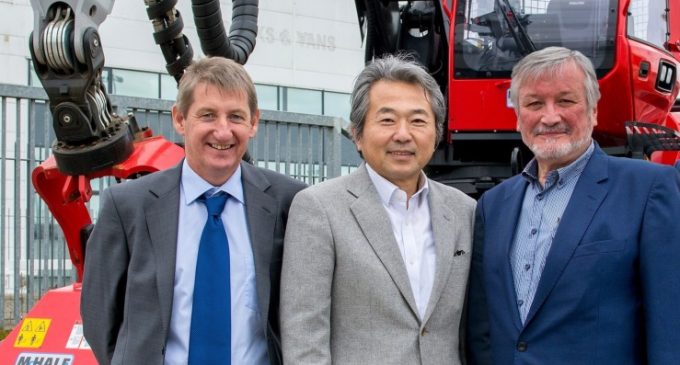 A delegation from Komatsu Forest recently visited the Rathcoole-based headquarters of McHale Plant Sales on Greenogue Industrial Estate in the wake of its appointment to distribute their range of timber harvesting and forwarding machinery in Ireland, north and south. Led by its president and chief executive officer, Mitsuru Ueno, the delegation viewed the company's facilities and met with staff before engaging with sales director John O'Brien and colleagues to discuss what their future plans for the market in Ireland will be.
 
Linked with the Japanese manufacturer for the past 23 years as distributor of its excavators and construction plant, the enlargement of their role to include the Komatsu Forest range is one that brings the firm into an area of activity that John O'Brien notes 'has grown significantly over recent decades'.
CAPTION:
Pictured with one of the red-coloured Komatsu harvesters used to fell, strip and cut each tree for onward transport to the sawmill is Mitsuru Ueno with McHale directors Tim Shanahan and John O'Brien.