Largest Ever Single Office Letting in Ireland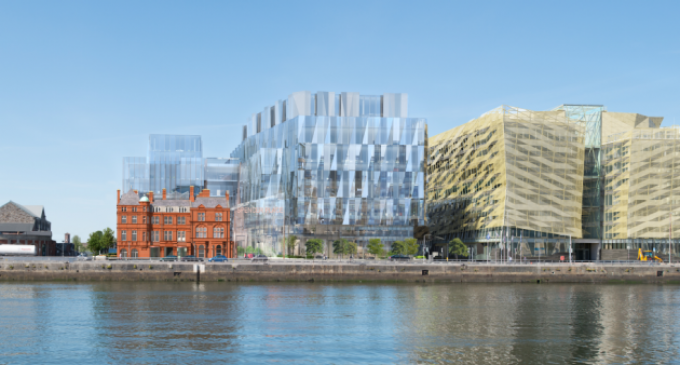 Spencer Place Development Company, a joint venture company of Ronan Group Real Estate and investment vehicles managed by Colony Capital, has secured the largest ever office letting in Ireland with NYSE-listed software giant Salesforce. Salesforce, the global leader in CRM will be the majority occupier of RGRE's development at Spencer Place, Spencer Dock in Dublin, which is currently under construction.
The Spencer Place letting underscores RGRE and Colony Capital's unique capability and track record in delivering 'mega-leases' for large international occupiers looking to invest in Ireland and create jobs at scale.
RGRE and Colony Capital also held the previous record for a single office letting in Ireland when Facebook agreed to lease the entire 350,000 sq. ft. Fibonacci Square scheme in Ballsbridge as their new EMEA HQ building in November 2018.
The partners have established themselves as the developers of choice to meet the needs of the world's most successful technology companies, having now secured tenancy agreements with Salesforce, Facebook and Amazon. These office lettings alone encompass almost 1.25 million sq. ft. of premium office space in Dublin.
Spencer Place is located in the North Lotts Special Development Zone (SDZ), beside the new Central Bank building, and will provide 430,000 sq. ft. of space.
Construction at Spencer Place commenced in 2016 and completion is scheduled for the second half of 2020. The scheme sets new standards for quality and sustainability in Dublin, boasting a LEED v4.1 Platinum energy rating, over 600 bicycle parking spaces and Wired Certified Platinum connectivity rating from WiredScore. Spencer Place will also be NZEB (Nearly Zero Carbon emissions) compliant.
James Ronan, RGRE Senior Development Manager, said: "We are delighted for Salesforce and excited to deliver their new highly sustainable EMEA Hub. RGRE, Colony Capital and Salesforce have a collective goal of creating a world class development, which is designed to foster collaboration between teams in a single dynamic workplace."
Stefan Jaeger, Managing Director of Colony Capital, stated: "I am thrilled about Spencer Place, which upon completion in 2020, will set the benchmark for smart design, sustainability, flexibility and collaborative workspace in Dublin. Together with our partners at RGRE we continue to pursue a focused strategy of providing large-scale, best-in class office-led schemes in the most premier locations across Dublin for world leading companies, helping them to realize their growth ambitions."