Majority of Construction Companies Plan to Implement BIM Within Next 3 Years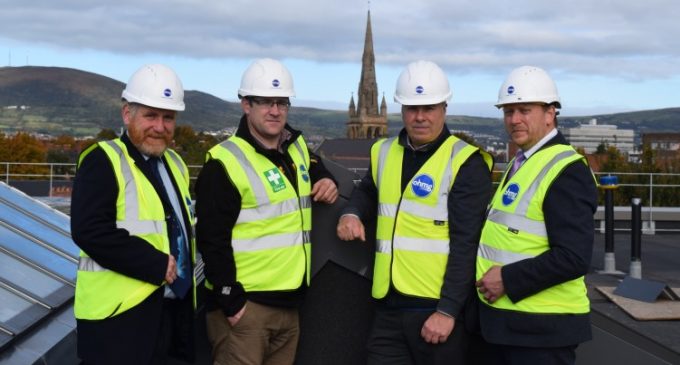 A European survey conducted by the Construction Industry Training Board (CITB NI), as part of a Belfast Met-led EU Horizon 2020 BIM (Building Information Modelling) programme known as BIMcert, has shown that two thirds of construction companies are planning to implement BIM within the next 3 years, highlighting the increasing need for companies to adopt and invest in BIM technology and processes. Findings also showed that the full value of BIM is underestimated, with an appreciation of the short-term benefits of BIM shown by the majority of respondents, and an undervaluing of the long-term benefits to sustainability and near zero carbon buildings and the associated cost savings.
Barry Neilson, Chief Executive at CITB NI, who leads on the project's 'State of the Art' work package, said: "Our survey has shown that companies have still not fully understood the full extent of the benefits of BIM, despite the clear intention by the majority of companies to implement BIM within the next 3 years. The value of BIM was noted by survey respondents principally during the design and build stage, where many obvious benefits are known around streamlined and coordinated communication and improved collaboration between teams, and the associated savings to time and money. A dip however was noticed in respondents recognising the long-term benefits to sustainability and energy efficiency and these long-term savings."
The CITB NI BIM survey was conducted as part of the first stage of the €1.25 million EU Horizon 2020 Research and Innovation-funded BIMcert project, which was conducted in the 5 project partner countries of the UK, Ireland, Portugal, Macedonia and Croatia. Barry Neilson added: "One possibility for this finding could be the drivers and tactics employed to promote and encourage the adoption of BIM. While energy efficiency and better management of the built environment are obvious benefits, client bodies including government seem to remain focused on the design and construction savings, and less so on promoting better buildings to bring long-term carbon reduction and cost savings."
The BIMcert project led by Belfast Met, which brings together 7 European academic and consulting institutions from across Europe, including CITB NI and the Dublin Institute of Technology (DIT), aims to provide a comprehensive BIM training and qualification scheme for all levels of the construction supply chain.
With the priority on developing an industry-led qualification scheme, CITB's role has been to engage with the construction sector through a comprehensive survey and series of workshops, so as to determine the awareness levels of BIM and the perceptions around BIM, to enable the development of an appropriate upskilling framework. The aim is also to attempt to quantify the impact of upskilling, in terms of the value of projects that could benefit from the efficiencies of implementing BIM.
Martin Lennon, Managing Director of O'Hare McGovern, who are increasingly implementing BIM projects, commented: "We are currently delivering one of Northern Ireland's largest BIM Level 2 projects for Queen's University Belfast, namely the School of Biological Sciences. The project strengthens our previous BIM experience with the University on their multi award winning Wellcome-Wolfson Institute for Experimental Medicine & Computer Science Building. We are also currently engaging with a 3rd party provider for BIM level 2 company certification to further our commitment to BIM and its emerging technologies to continue to be at the forefront of the construction industry."
Paul McCormack, Innovation Manager at Belfast Met and BIMcert Project Manager, commented: "The CITB survey and subsequent reports on their industry engagement will underpin the development of the BIMcert training and qualification scheme. BIMcert plans to develop a framework of 'bite-sized' learning modules for all levels, which will enable individuals to upskill from any starting point. The survey has highlighted that the intention to undertake BIM training is strong across all countries. The survey also showed that 60% of companies are showing a preference for recruiting staff with BIM knowledge or qualifications, highlighting a growing demand for BIM training in the sector. In terms of training delivery, over half of respondents indicated they would prefer a person-led course with practical demonstrations, while the remaining would prefer forms of online training. This feedback indicates a need for a blended learning approach, with the need for any training to be underpinned by practical 'coached' skills."
CAPTION:
Pictured from left: Paul McCormack, Belfast Met; Niall Doyle and Eamonn McDonnell, O'Hare McGovern Ltd; with Barry Neilson, CITB NI, at Queen's University Belfast's new School of Biological Sciences, one of Northern Ireland's largest BIM Level 2 projects, which is currently being completed by O'Hare McGovern.