Murphy Surveys is First Dedicated Survey Company to Achieve BSI Kitemark For BIM Level 2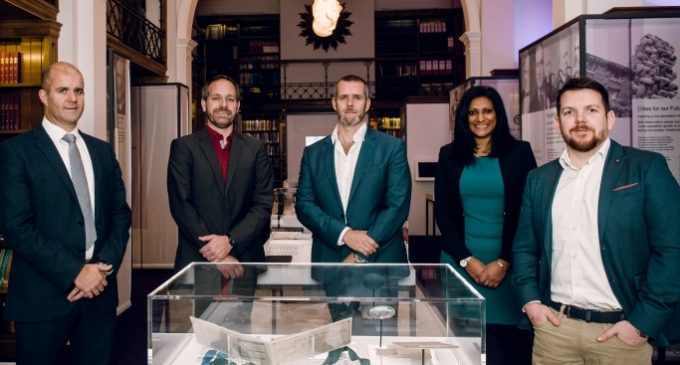 Murphy Surveys  has become the first dedicated survey company in the UK and Ireland to achieve the prestigious BSI Kitemark™ for BIM Level 2 (Design and Construction). The Kitemark is the highest level achievable for the delivery of infrastructure or building projects that meet the requirements of the UK Government's BIM Level 2 condition of contract. The Kitemark is the benchmark in best practice and demonstrates to clients the company's capability to successfully deliver BIM projects to these strict guidelines. The Kitemark required a full audit and assessment of Murphy Surveys' systems, processes and competency of staff to ensure they meet the requirements of the standards.
"To achieve the BSI Kitemark for BIM Level 2 Design and Construction is a great milestone achievement for Murphy Surveys," commented Colin Murphy, Development Director, Murphy Surveys. "BSI is one of the most respected standards and certification providers in the world, so it's an absolute honour to be the first dedicated survey company in the UK and Ireland to achieve this mark of excellence."
"There's no doubt that we're in the midst of a digital transformation in the AEC sector as new innovation, new technology and a drive for efficiency and sustainability continue to dominate discussions with our clients. BIM is certainly centre stage of this and we need to drive better standards and embed best practice into our industry, so we're proud to take a step forward for our profession with this internationally recognised Kitemark."
Ray Murphy Chief Executive, Murphy Survey Ireland, commented: "We're dedicated to delivering geospatial certainty across all of our projects, so gaining this prestigious Kitemark was a natural step for us to be independently verified against the processes and workflows that we've worked so hard to develop. We understand the importance and value that standards bring to an integrated BIM project, and we look forward to working with our clients to deliver this value and giving them complete confidence in the delivery of our BIM service."
Andy Butterfield, Product Certification Director of Built Environment at BSI, said: "BIM is becoming increasingly vital for those working in the construction industry and organizations must be able to demonstrate how BIM-ready they are in order to be considered for projects both now and in the future. We're delighted to have supported Murphy Surveys with achieving this verification certification which demonstrates their commitment to being compliant with the requirements of PAS 1192-2 covering Design and Construction for Level 2 BIM."
For more information about Murphy Surveys' new BSI Kitemark and its BIM service, contact Head of BIM in the UK Enzo Labrosciano on +44 203 598 3775 or elabrosciano@murphysurveys.co.uk or Head of BIM in Ireland Ricardo Oliveira on +353 (0)45 484 040 or roliveira@murphysurveys.ie
CAPTION:
Pictured (L-R): Colin Murphy, Development Director; Kai Dubbert, UK Managing Director; Ray Murphy, Chief Executive Ireland; Rekha Voralia, Head of Marketing; and Enzo Labrosciano, Head of BIM UK; at the RICS HQ in London.