New housing development on the Northside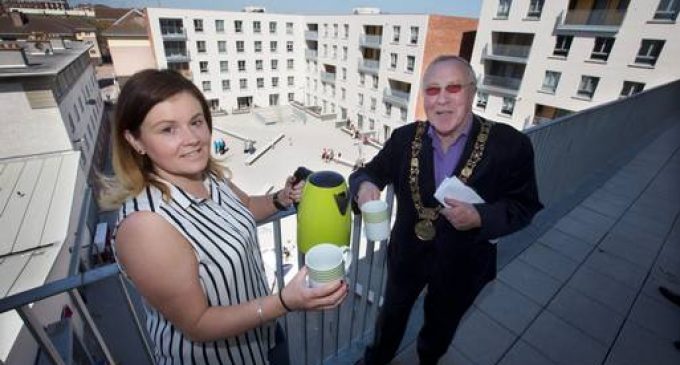 A NEW housing development on the northside will be a fitting legacy for artist and 1916 Rising hero Peadar Kearney, his granddaughter has said.
Lord Mayor Christy Burke and Ministers Alan Kelly and Paschal Donohoe were on hand to open the complex – Peadar Kearney House – that will house 56 families on Railway Street, Dublin 1.
Mr Kearney fought in the Jacobs Factory during the Rising and his granddaughter Eva spoke of her pride that his name has been attached to the housing project.
"It's great, this complex will be around for a long time and people will always ask 'who is Peadar Kearney', so he will continue to be remembered, not just for his songs, but also for the sacrifice he gave for his country," she said.
Cllr Burke said the scheme – which is managed by Circle Voluntary Housing Association (CVHA) – is part of the "ongoing redevelopment" of the north inner city.
delighted
"I know that it will add greatly to the area and enhance the lives of many of the tenants living here," he said.
One new resident Elaine McCann (pictured right) was delighted with her new home.
"Securing this place was vital, considering that I had a 12-year old son still sleeping in the same bed as me because we had no space in my mam's, so I don't even know myself with the space we have here," she said.
"The community is great here as well," she added.
The future of the O'Devaney Gardens complex – where a regeneration project had been planned – was also discussed.
Councillors rejected another plan by Environment Minister Mr Kelly to house homeless people there.
Mr Burke said he would be meeting Mr Kelly to discuss the matter soon.
Mr Kelly raised concern that his plan had been opposed, adding that the Government was under "big time pressure" to house the homeless.
He added that he "completely" believes in regeneration, but that the councillors "in their wisdom decided it wasn't right".