New Phase of SVP Housing Scheme Officially Opened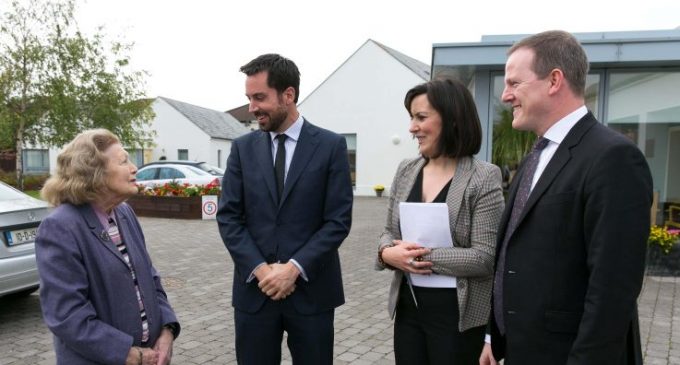 Phase 2 of the Society of St Vincent De Paul (SVP) St Benedict's Housing Scheme at Estuary Road, Malahide, County Dublin has been officially opened by Eoghan Murphy TD, Minister for Housing, Planning & Local Government. St Benedict's Phase 2 scheme provides an additional 8 x 1 bed units of accommodation for the elderly to the Society's existing scheme of 37 units.
The scheme was funded by Fingal County Council and the Department of Housing, Planning & Local Government through the Capital Assistance Scheme, and was delivered to a very high standard completed on time and within budget.
The first phase of St Benedict's was completed in 2009. It comprises 37 units of housing, 31 x 1 bed and 6 x 2 bed units, and community facility.
Phase 1 was designed by Paul Keogh architects. Phase 2 was designed by architect Jerry Hannigan and constructed by Demac construction.
The single storey design allows for a wide spectrum of users in line with universal design and life cycle adaptability. Open space is over looked by housing fronts ensuring passive surveillance at all times. Houses are laid out with orientation to maximise sunlight to open space and to allow daylight penetration. Courtyard design lends itself to community interaction. The ethos is to encourage friendship and neighbourly relationships.
The Community Facility built in parallel with the housing units (funded through National Lottery Communal facilities grant in additional to St Vincent De Paul funding contribution) is an integral part of the scheme and offers tenants a valuable social outlet for social, educational and leisure activities.
The plot of land on Estuary Road on which St Benedict's was built was gifted by Josephine Denning. She willed that the land be used for housing older people.
Nationally SVP provide 875 housing units which accommodate 961 people.
The scheme has been delivered by the commitment and dedication of the local volunteers of the SVP St Benedict's Conference and is managed and maintained through a volunteer-led approach supported by an on-site housing manager.
The commitment and dedication of the volunteers in St Benedict's  Conference is key to the ongoing successful management of both the housing and tenants and is very much the added value element to the housing delivery. The vision and work of the local volunteers has realised the delivery of accommodation that can sustain older people and people with disabilities to live in their community independently.
CAPTION:
Pictured at the official opening of Phase 2 of the Society of St Vincent De Paul (SVP) St Benedict's Housing Scheme at Estuary Road, Malahide, County Dublin are left to right: Jo Morris, St Benedict's Conferenc; Minister Eoghan Murphy; Paula Kenny, SVP National Manager for Social Housing and Specialist Services; and Alan Farrell TD.