Shortlist for Octabuild Builders Merchant Excellence Awards 2019 Announced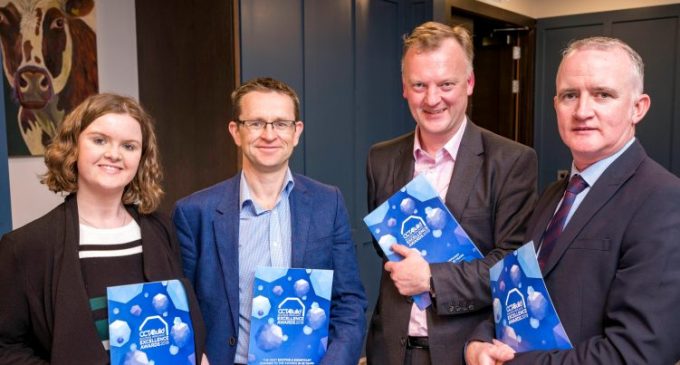 The shortlist for the Octabuild Builders Merchant Excellence Awards 2019 has been announced with 16 builders merchants in contention for the three regional and five category awards. In addition, 13 staff members have been nominated for the first-time Rising Star Award.
The Octabuild Awards, which have been acknowledging the best in the builders merchant trade for 35 years, have been revamped for 2019 with a renewed focus on excellence that reflect the modern builders merchant sector in terms of business management, customer service, sales & marketing, innovation, leadership, diversity, partnership and communication.
In addition to the established National and Regional Awards, merchants are now competing for five individual award categories: Excellence in Business Management, Excellence in Sales & Marketing, Excellence in Customer Service, Excellence in Sustainable Business and Excellence in Community Outreach.
A new Rising Star Award also allows builders merchants to acknowledge the up and coming talent in their business.
Commenting on the quality of the entries, Chair of the Judging Panel, Liam O'Gorman, said: "Reviewing the submissions into the Octabuild Builders Merchant Excellence Awards 2019, it is clear that the industry in which today's builders merchants operate has evolved hugely and that merchants have led the way in embracing this changed landscape. More sophisticated business systems, an enhanced skill base and a keen focus on the environment, health & safety and assistance for the local community feature strongly across the country and is highly commendable."
Octabuild Chairman, Mark Filgate said: "It's important for Octabuild that the Awards highlight to the building and construction industry the excellence of Irish builders merchants. We are delighted with the enthusiastic response to the new style awards this year where merchants from all over the country have put themselves and their teams forward to showcase what's excellent in the industry."
The Awards presentations will be made on the evening of Thursday, 7th November in the Aviva Stadium in Dublin.  All shortlisted merchants will be guests of Octabuild members – Dulux, Glennon Brothers, Gyproc, Instantor, Irish Cement, Kingspan Insulation, Tegral Building Products and Wavin at the Awards ceremony.
CAPTION:
Pictured at the Dublin launch of the Octabuild Builders Merchant Excellence Awards 2019 were (l-r): Aoife Kinsella of HAI, Octabuild board member Ray Molyneaux of Irish Cement, Andrew Hewat of GMROI, and Alan Donohoe of Tegral Building Products.
The shortlist for the Octabuild Builders Merchant Excellence Awards 2019 is as follows:
Connacht and Ulster Regional Award
Brooks Timber & Building Supplies LTD, Ballybrit, Co. Galway
Ganly's, Athlone, Co. Roscommon
Grahams of Monaghan, Tullyhirm, Co. Monaghan
Heiton Buckley, Castlebar, Co. Mayo
The Cope Builders Providers, Dungloe, Co. Donegal
Leinster Regional Award
Chadwicks, Sandyford, Co. Dublin
Ganly's, Townspark, Co. Longford
Telfords, Portlaoise, Co. Laois
Wallace's Homeware, Wellingtonbridge, Co. Wexford
Munster Regional Award
Cork Builders Providers, Togher, Co. Cork
McMahons Builders Providers, Dock Road, Co. Limerick
Market Hardware, Ennis Road, Co. Clare
Excellence in Business Management
Chadwicks, Naas, Co. Kildare
Heiton Buckley, Milltown, Co. Monaghan
Excellence in Community Outreach
Brooks Timber & Building Supplies LTD, Finisklin Road, Co. Sligo
Ganly's, Athlone, Co. Roscommon
Ganly's, Townspark, Co. Longford
Joyce's Hardware & Home, Headford, Co, Galway
Wallace's Homeware, Wellingtonbridge, Co. Wexford
Excellence in Customer Service
Grahams of Monaghan, Tullyhirm, Co. Monaghan
Market Hardware, Ennis Road, Co. Clare
Telfords, Portlaoise, Co. Laois
Wallace's Homeware, Wellingtonbridge, Co. Wexford
Excellence in Sales and Marketing
Ganly's, Athlone, Co. Roscommon
Grahams of Monaghan, Tullyhirm, Co. Monaghan
Excellence in Sustainable Business
Ganly's, Athlone, Co. Roscommon
Ganly's, Townspark, Co. Longford
Telfords, Portlaoise, Co. Laois
Rising Star Award
Ross Fagan, Chadwicks, Lucan, Co. Dublin
Fergus O'Neill, Cork Builders Providers, Togher, Co. Cork
Tommy Nolan, Topline Cleary's Hardware, Carrick-on-Suir, Co. Tipperary
Padraig Daniels, Morris Builders Providers Ltd, Cork Road, Waterford
Brendan Cassidy, Heiton Buckley, Castlebar, Co. Mayo
Senan Duigan, TJ O'Mahony, Ballymount, Co. Dublin
Damian Barnwall, Chadwicks, Navan, Co. Meath
Brian McPartland, McMahons Builders Providers, Dock Road, Co. Limerick
Ciara Roche, Wallace's Homeware, Wellingtonbridge, Co. Wexford
Cormac Wickenden, Brooks Timber & Building Supplies LTD, Ballybrit, Co. Galway
Joe Geraghty, Joyce's Hardware & Home, Headford, Co. Galway
Patrick Burke, Joyce's Hardware & Home, Headford, Co. Galway
William Hanlon, Murdock Builders Merchants, Kilbarrack, Co. Dublin