SSE Enterprise and Pure World Energy Launch Cleaner and Cheaper Power Solution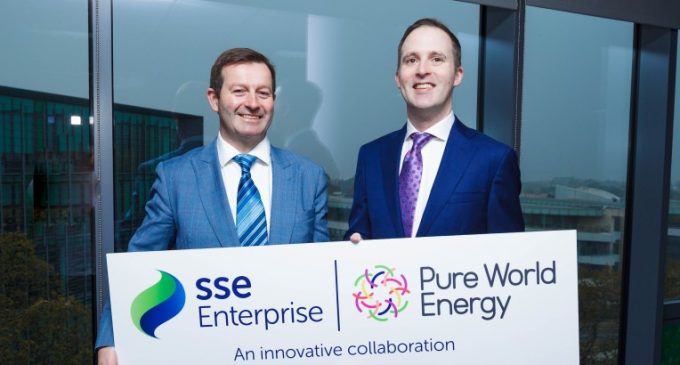 A new form of cleaner and cheaper temporary power for use on construction sites and at industrial locations has been launched by SSE Enterprise and Pure World Energy (PWE). Using the latest gas-powered microturbine technology, the 'Semi-Permanent Power' solution will help developers cut harmful emissions and energy costs, making it particularly suitable for new construction in cities and towns across the country.
The joint venture between SSE Enterprise and Pure World Energy (PWE) uses technology from US company Capstone, developed to meet strict California emissions levels. The microturbines are capable of providing onsite temporary or medium-term power that is ultra-low in NOx (Nitrogen oxides) and SOx (Sulphur oxides) emissions – especially compared with diesel generation.
The technology is particularly suitable in areas where the electricity grid is under pressure to supply extra power for major developments. In Dublin for example, the current high levels of development and consequent demand for industrial-scale power is putting pressure on the grid, causing potential development challenges to major projects.
The modular design of the microturbines means they can be installed from as low as 65 kVA to over 10 MVA to match individual customer demand, making the technology more flexible and scalable for a wider range of projects.
Another unique selling point of this microturbine solution from SSE Enterprise and PWE is that the end user only pays for the energy they use. There are no costs associated with the installation, connection or maintenance of the units.
Four Key Benefits of the new microturbines are:
Cleaner – It beats traditional onsite diesel generation on emissions, noise and space
Cheaper – It's up to 20% cheaper than the equivalent cost of diesel generation
Simpler – Customers only pay for the energy they consume, and no back-up generation is required
More flexible – The modular configuration of the microturbines means they can be scaled up or down to match demand, making the technology suitable for multiple industries.
Patrick Rooney, Regional Director, SSE Enterprise, said: "We believe this Semi-Permanent Power solution could be game-changing. Until now many construction companies, developers and industrial manufacturers have had to rely on diesel generation to meet their onsite needs, and an increasing number are looking for a cleaner, cheaper and more flexible option.
"Demand for new city infrastructure has never been greater. But constrained power networks are now effectively becoming a barrier to development. This means that would-be large energy users can't readily access the energy they require to meet demand. Our microturbine technology is designed to solve both these issues at once by providing a cleaner source of temporary generation, tailored to meet the varying demands of each customer."
Sean Fitzpatrick, CEO of Pure World Energy (PWE), added: "PWE is delighted to partner with SSE Enterprise to launch our Semi-Permanent Power solution. Our Capstone microturbine technology offers a clean, efficient and effective model for medium-term electricity supply. We are offering a hybrid ESCo model that will give customers cost certainty and greater reliability.
"Given the amount of focus we are seeing in the UK and Ireland on reducing pollution in our cities we think this is a very timely market intervention. We hope that many businesses will be able to benefit from deploying this solution – especially when they face constrained grid issues."
For more information, see www.sse-enterprise-and-pwe.com
CAPTION:
Solving the temporary power needs on building sites and industrial locations – Sean Fitzpatrick, CEO of Pure World Energy, and Patrick Rooney, Regional Director, SSE Enterprise, launch a new cleaner and cheaper temporary power initiative.