Swords Cultural Quarter Development Continues as Preparations are Made For New Civic Plaza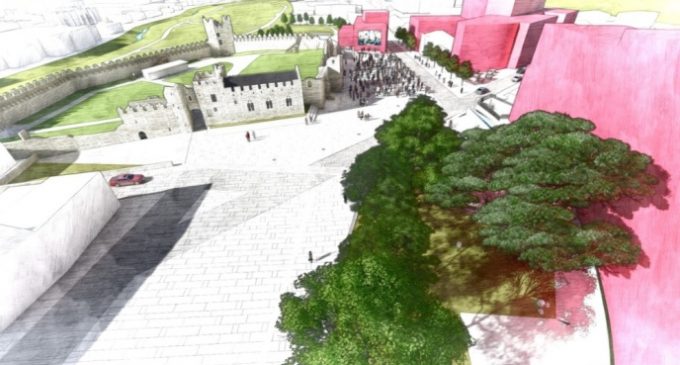 Fingal County Council continues to drive forward with its flagship Swords Cultural Quarter project with significant preparatory work taking place recently which will ultimately form part of a new civic plaza set against the backdrop of Swords Castle. Contractors carried out the demolition of four derelict buildings on North Street which has created a new focal point at the junction of North Street, Main Street and Seatown Road in a major step forward for the Swords Cultural Quarter project.
The multi-million euro project will see the development of a new library, public theatre and art exhibition space adjacent to Swords County Hall, a new cultural quarter, and significant landscaping development in the park and town.
Fingal County Council will shortly appoint a project management team to oversee the delivery of projects within the multi-million euro development.
County Architect Fionnuala May said: "The ongoing demolition work at North Street is an important step in preparing the way for the next stages of the flagship Swords cultural Quarter development and in increasing the prominence of Swords Castle."
Mayor of Fingal Cllr Eoghan O'Brien said: "I am delighted to see the latest phase of the project which will bring significant benefits to the town being carried out. The work has caught the attention of the public with passers-by stopping to video and photograph the work as it was carried out. I look forward to further progress with the appointment of the project management team."
Chief Executive of Fingal County Council AnnMarie Farrelly said: "The Swords Cultural Quarter is an exciting and visionary project, and Swords Castle is one of the jewels in Fingal's crown, with immense value in terms of history, culture, tourism and civic pride. The current works allow us to progress the construction of the civic plaza and provide better views of the Castle."
Swords Castle is a National Monument under oversight from the Department of Arts, Heritage and the Gaeltacht. The Castle was originally built around 1200 AD as the manorial residence of John Comyn, the first Anglo-Norman Archbishop of Dublin.