World's first 3D-printed office opens in Dubai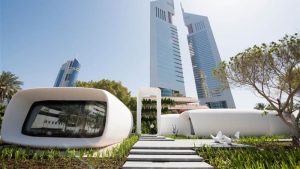 3D printing technology promises to revolutionize architecture in the near-future, allowing designers to literally click-and-print complex buildings at a lower cost and faster speed than traditional construction methods allow. Another step forward in the field comes via Dubai, where what's hailed as the world's first 3D-printed office was recently completed.
A very large 3D printer measuring 20 x 120 x 40 ft (6 x 36 x 12 m) did most of the work, printing the building by extruding a cement mixture layer by layer.
There were also some additional smaller mobile 3D-printers used to make digitally designed, three-dimensional objects from plastic – have not been used much for building.
This one used a special mixture of cement, a Dubai government statement said, and reliability tests were done in Britain and China.
"This is the first 3D-printed building in the world, and it's not just a building, it has fully functional offices and staff," the United Arab Emirates Minister of Cabinet Affairs, Mohamed Al Gergawi, said.
"We believe this is just the beginning. The world will change," he said.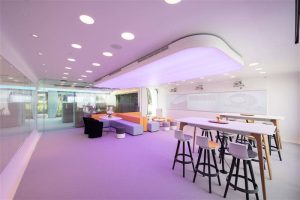 The full model took only 17 days to print and costing about $140,000, will be the temporary headquarters of Dubai Future Foundation – the company behind the project – is in the center of the city, near the Dubai International Financial Center.
Gergawi said studies estimated the technique could cut building time by 50-70 percent and labor costs by 50-80 percent. Dubai's strategy was to have 25 percent of the buildings in the emirate printed by 2030, he said.
The Office of the Future project is part of a wider push to make Dubai and the United Arab Emirates a world leader in 3D-printing. The scheme is focusing on construction, medical products, and consumer products.