Aldi and Lidl announce separate multi-million euro investments in Cork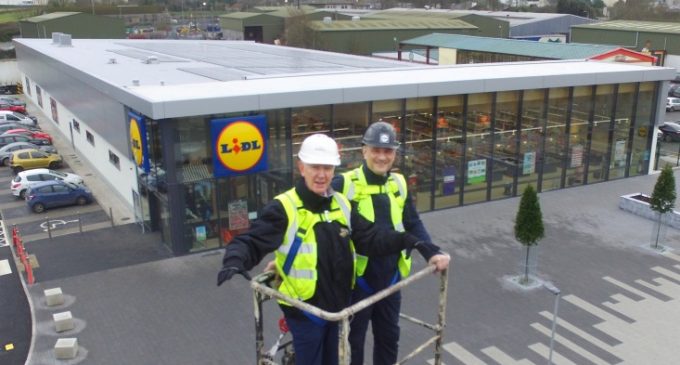 The store will bring up to 25 permanent new jobs to Kanturk after planning permission for the supermarket was secured.
Discount supermarket chains Aldi and Lidl have announced separate plans for new stores in Cork.
Aldi is set to open a new store in Kanturk in a €7m investment, while Lidl has had plans approved for the €16m redevelopment of a Ballincollig retail park.
The new Aldi store in north Cork will bring up to 25 permanent new jobs to Kanturk after planning permission for the supermarket was secured.
The store is expected to be open in late 2023 and will be the 25th Aldi in Cork.
The development will be carried out on Percival Street, creating 80 jobs during the construction phase.
Aldi say it will be powered "by 100% renewable electricity" and will be constructed "in Aldi's award-winning Project Fresh design".
The 1,315sqm store will feature 103 car parking spaces and eight bike parking spaces and will also include a two-storey café/restaurant unit facing onto Percival Street. It will also provide for four free-to-use electric vehicle-charging points.
An access road will join Percival Street to the new Kanturk link road and will include a dedicated cycle lane, which will improve access to the town centre and the new national school.
"It is great news to get the green light from Cork County Council for our new Kanturk store," said Colin Breslin, Aldi's Regional Managing Director.
"The local team are really looking forward to welcoming both existing and new customers to our Kanturk store. The store will also provide further opportunity for local food and drink producers to work with Aldi."
Currently, the chain employs more than 4,650 people and operates a network of 149 stores across the country.
€16m redevelopment
Meanwhile, Lidl said it has received Cork City Council approval for the €16m redevelopment of the West City Retail Park in Ballincollig.
It will see a new Lidl store open and a commercial agreement has ensured that home retailer JYSK and Australian retail pharmacy Chemist Warehouse will be in place in the retail park as well.
The plan will create up to 100 jobs across the retail park with "hundreds more jobs being created during the construction phase".
In a statement, Lidl added: "The development also has provisions for a coffee shop and a generous sized retail unit, suited to a local business looking for an electrical showroom or a sports/leisure store."
Conor Nagle, Regional Director for Munster with Lidl Ireland, said they are delighted to see the plans approved.
"This plan would see the current retail park, which is vastly underutilised, transformed into a modern and vibrant retail hub for the residents of Ballincollig and the surrounding areas."
Work on the development is expected to commence early next year.
Source: The Irish Examiner