Combilift signs €1m contract with home improvement retailer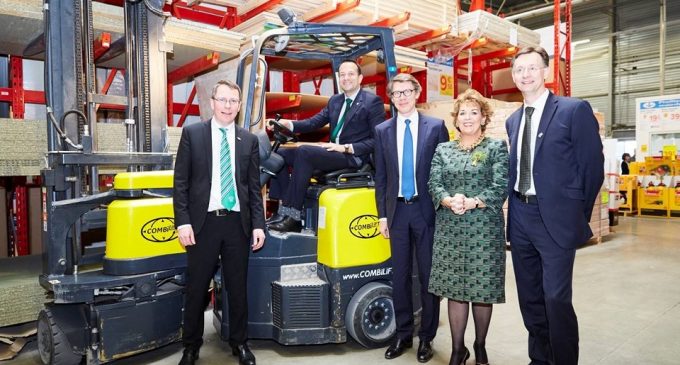 Combilift, the Irish manufacturer of multi-directional forklifts based in Monaghan has signed a contract with Kingfisher, Europe's largest home improvement retailer worth an additional €1million to deliver 50 Aisle-Master forklifts to the company during 2017.
The contract signing was witnessed by Leo Varadkar Minister for Social Protection and Geraldine Nason-Byrne, Ireland's Ambassador to France during a recent Enterprise Ireland trade visit to France.
Irish renewable energy group Gaelectric will also sign a Memorandum of Understanding with French offshore wind company Ideol to develop floating offshore wind energy projects in Irish waters. Five more Enterprise Ireland clients – Novareus, Ecowash, Ding, Vigitrust and Xintech – are set to sign contracts with French partners.
Leo McAdams, Enterprise Ireland's Director of International Sales and Partnering said; "This trade visit is an important initiative towards achieving Enterprise Ireland's strategic goal of increasing indigenous Irish exports to France which were valued at €0.91 billion in 2015. Post Brexit, France is a critically important market and Enterprise Ireland continues to support Irish companies with global ambition to exploit business development opportunities in the French market to sustain export growth in 2017".