Completion of New Roof at Carrickfergus Castle a Towering Success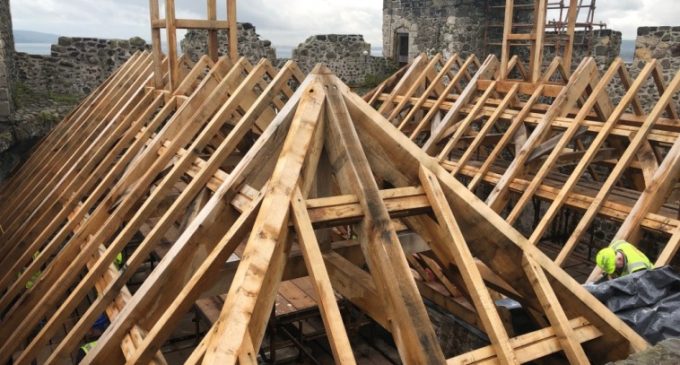 The Great Tower at Carrickfergus Castle has been formally re-opened, following a £1 million conservation project to construct a new roof on the 800-year-old landmark. The Castle has been in State Care since 1928 and is managed by Historic Environment Division within the Department for Communities.  It is one of the most complete examples of Norman architecture in Britain or Ireland.
On-site construction work got underway in March 2019. The main contractor, Dungiven-based JPM Contracts Ltd started works in December 2019, and began by sourcing the Irish oak that would form the main timbers of the roof structure. The main trusses of the new roof are made from unseasoned Irish oak trees that fell naturally in Storm Ophelia in 2017.
The roof, built according to medieval construction techniques, should last for generations to come and allow the full use of the Great Hall for displays and functions.
Speaking at the formal re-opening, Minister for Communities Deirdre Hargey MLA said: "This investment has secured the future of this important monument and prevented irreparable damage to the structure. Archaeologists and conservation architects within the Department worked together to design a historically appropriate roof.  What has been achieved is an outstanding piece of architecture that safeguards this important and historic place. The project has been designed to be sustainable on many levels. The materials used are durable, traditional materials. The oak used for the roof is from a sustainable source."
The Minister added:  "Heritage forms a key component of our tourism economy. Carrickfergus is the gateway to the Causeway Coastal Route and I am keen that this iconic castle continues to be marketed as a must see destination which attracts additional visitors to the area."
Colum McNicholl, from JPM Contracts Ltd, said: "Now that the works are completed on the roof, and the dust settles, we can stand back and look at this roof with pride. We hope that our work will become part of the history of Carrickfergus, and that people visiting the castle will enjoy this beautiful structure for years – if not centuries – to come."