Cork Courthouse Unveiled After €38 Million Redevelopment by BAM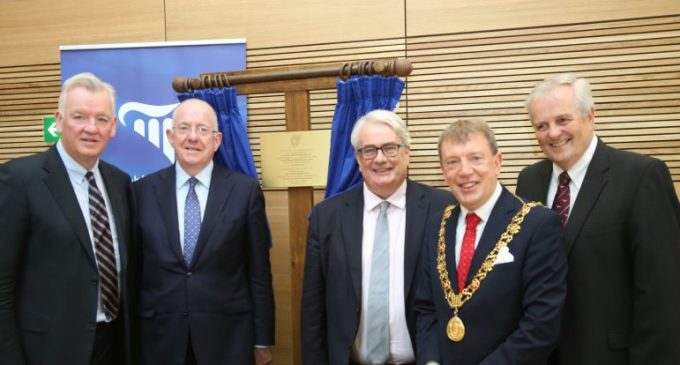 The new Cork Courthouse has been officially opened following a €38 million redevelopment project by BAM. The work saw the contractor revamp the former Model School building on Anglesea Street into a six-storey courthouse that provides six new courtrooms as well as improved custody and legal practitioner facilities.
It is one of seven courthouses that BAM has restored, renovated and built across Ireland as part of the Courts Bundle PPP project, the deal also provides for the 25-year facility management of each courthouse.
The new Cork Courthouse has been developed around the original structure which was built circa 1865. BAM's new development has expanded the site's area size from 1,815m2 to 10,100m2. It was designed to incorporate Court Services offices, training rooms, Garda and DPP facilities also.
Speaking about the opening of the courthouse, CEO of BAM Ireland Theo Cullinane said: "The new Cork Courthouse is a first-class facility and one that the people of Cork can be proud of. Many of our parents attended the school and it is a fine example of utilising an existing site and turning it into a contemporary building that is befitting of this great city. It is one of seven courthouses throughout the country that BAM has designed, built, financed and will maintain for 25 years as part of the Courts Bundle PPP project. BAM has a great association with Cork City and this is just one of numerous projects we have completed to help shape it."
The delivery of the courthouse follows a number of high profile projects that BAM has completed or is developing in Cork.
These include Navigation Square, providing 310,000 sq ft of city centre office development; Ireland's smartest building at One Albert Quay; The Capitol on Patrick Street;  Dell HQ Citygate Park in Mahon; the new waterside urban quarter at Horgan's Quay as well as the two new student accommodation facilities at the former Beamish & Crawford site and on Western Road.
BAM Ireland has helped to shape the infrastructure of Ireland for the past 60 years through its principal activities of building contracting and civil engineering in the public, private and PPP sectors. Other activities include facilities management, property development and rail infrastructure. It currently employs over 2,000 people directly and indirectly.
CAPTION:
Pictured (L-R): Theo Cullinane, CEO of BAM Ireland; Charlie Flanagan TD, Minister for Justice and Equality; Chief Justice Frank Clarke; Lord Mayor of Cork Cllr Tony Fitzgerald; and Ger Harrington, BAM Director.