Diageo Achieves World Accreditation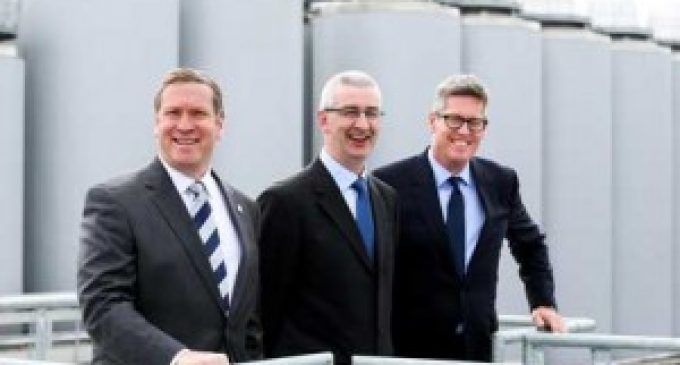 St. James's Gate becomes the first major brewery in the world and the first manufacturing plant in Ireland to achieve the highest award possible in LEED certification
The Sisk built Brewhouse No. 4 at St. James's Gate has become the first major brewery in the world and the first manufacturing plant in Ireland to achieve the highest award possible in Leadership in Energy and Environmental Design (LEED) certification.
The Platinum LEED Certification was awarded to Diageo by the CEO of the US Green Building Council Rick Fedrizzi in a ceremony held at St. James Gate last night. LEED certification is the internationally recognised benchmark for green certification developed by the US Green Building Council to promote sustainability in the building and construction industry.
Brewhouse No. 4, the €169m state-of-the-art brewhouse at St. James's Gate, which was opened last September, is the world's largest stout brewhouse capable of producing 300,000 pints in every two hour brew. To attain a level of environmental efficiency while supporting the growth and development of Diageo's global beer business and its flagship Guinness stout brand required investment in state-of-the-art technology. Efficiencies and energy savings made since the opening of Brewhouse No. 4 include:
The electricity savings from the project are equivalent to the electricity consumption of 2,760 Houses
33% less thermal energy is now needed in production resulting in steam savings the equivalent of 32,000 barrels of oil
The new Brewhouse uses 14% less water to make a brew
In addition, St. James's Gate has begun extracting and treating its own water on site, taking 500,000 m3 of demand off the Dublin City drinking water network. This is equivalent to one week of water production for the entire city.
The overall energy saved in one year by the development of Brewhouse No. 4 is equivalent to the total energy consumed by the entire Irish industrial sector in one day.
Mr. Rick Fedrizzi, CEO of the US Green Building Council said "I am very happy to be here at St. James Gate, this world renowned site to present this certification to Diageo. St. James's Gate is a unique space – a city centre brewery over 250 years old that is now one of the most environmentally sustainable industrial sites the world.
"There are very few LEED Platinum industrial buildings around the world quite simply because to reach this level of certification requires a company to push boundaries and consider a whole new way of thinking about how a company impacts on the environment. Today we are recognising Diageo's best-in-class building strategies and practices and a company that serious about innovation, sustainability and the environment."
Dave O' Leary, Director of Engineering Excellence at Diageo said "Today is such an important day for Diageo and  we are pleased to welcome Mr. Fedrizzi to St. James's Gate.  When we were developing plans for Brewhouse No.4 we were tasked with protecting a brewing process that is over 250 years old while creating the world's most energy efficient brewhouse and the most environmentally-friendly building we possibly could.
"Every day St. James's Gate absorbs huge quantities of raw ingredients from right across the island of Ireland which are prepared using a centuries old process and then turned around for export to over 130 countries across the world.  To create a premium product at this scale and respect the traditions of the brewing process required investment in  both technology and thinking. As a result of the investment that was made in St. James Gate by Diageo we can now say that we are  most environmentally sustainable brewery in the world, something we are all incredibly proud of."
Colin O' Brien Director of Operations at Diageo said "The St. James Gate site is core to supporting the growth and development of Diageo's global beer business and its flagship Guinness stout brand.  The design of Brewhouse No. put in place an infrastructure that ensures the long term sustainability and global competitiveness of our brewing operations, supports the growth in our exports' market while remaining true to our history, our heritage and our craft. "
Brewhouse No. 4 also received BREEAM (Building Research Establishment Environmental Assessment Methodology) 'Outstanding' –the highest BREEAM score of any industrial building in the world in 2014.