European Investment Bank Backs €405 Million Investment in Social Housing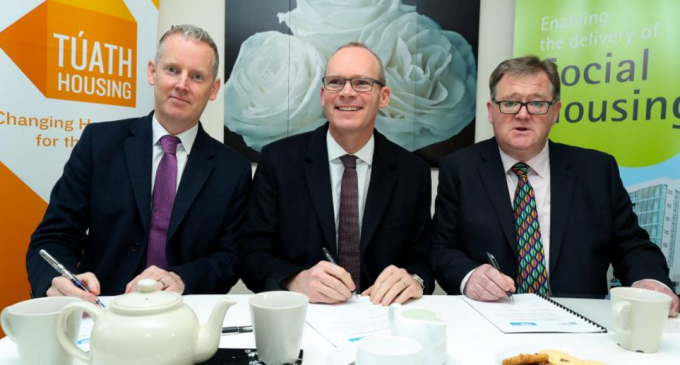 The European Investment Bank confirmed on Thursday support for record new investment in social housing totalling €405 million that will construct and improve thousands of properties across Ireland. It is expected that 1,400 new homes will be built and more than 700 properties upgraded in Dublin and across the country under the new initiative jointly financed with the Housing Finance Agency.
The largest ever European Investment Bank support for social housing in Ireland was formally announced during a visit to the recently completed Túath development at Beaumont in Dublin by Simon Coveney, Minister for Housing, Planning, Community and Local Government, Andrew McDowell, Vice President of the European Investment Bank and Barry O'Leary, Chief Executive Officer of the Housing Finance Agency.
Using funding from a previous HFA and EIB social housing initiative agreed two years ago, housing association Túath has constructed 68 new energy efficient homes, comprising both apartments and houses, at the Thornwood site.
"Over 1,400 families will have a new home as a result," Coveney said. "A further 700 householders will see their properties upgraded.  The financial package will provide additional employment and support local construction suppliers.   We are seeing a vital economic and social investment of €405 million.
"This initiative represents a significant combined effort from a number of critical partners in addressing what is the biggest social policy challenge we are currently facing as a country.  It brings together the European Investment Bank, the Housing Finance Agency, Approved Housing Bodies, local authorities and the construction sector.  In these times of almost unprecedented demand for housing, this new funding mechanism shows a flexibility and imagination in delivering new and improved social housing.
It has become a prevailing narrative in some public discourse in recent times to question our European institutions.  The European Investment Bank is owned by the Member States of the European Union, including Ireland.  This investment package provides a clear demonstration of the relevance and adaptability of our European institutions in meeting the specific challenges that Ireland is currently facing to increase social housing supply".
Under the new initiative €200 million of new financing from the European Investment Bank will be matched by the Housing Finance Agency to provide €405 million for new lending to support investment by Approved Housing Bodies to upgrade social housing and improve energy efficiency.
Andrew McDowell, Vice President of the European Investment Bank, said: "The European Investment Bank is pleased to confirm our largest ever backing for social housing investment in Ireland that demonstrates our firm commitment to supporting transformational investment to increase the number of affordable homes and cut heating bills in existing properties across Europe. The ongoing partnership with HFA has already benefited thousands of families, as well as construction firms and suppliers here in Dublin and across the country. Reflecting the hard work of colleagues at HFA, government departments and leading housing associations such as Túath, Ireland now represents the fourth largest recipient of long-term low-cost EIB financing for social housing anywhere in Europe."
By accessing EIB funding the Housing Finance Agency will be able to offer Approved Housing Bodies long-term finance at competitive rates. The new social housing investment scheme is supported by a guarantee from the Minister of Finance.
Reflecting the increased engagement by Europe's long-term lending institution in Ireland, later this month the European Investment Bank will host a workshop with housing finance experts from across the country to exchange ideas on how to enable increased off-balance sheet financing for social and affordable housing. This represents the first sector focused engagement under a new initiative to increase engagement with government departments and key stakeholders to strengthen support for crucial investment across key sectors.
The European Investment Bank also confirmed expected future lending for social housing investment under a dedicated PPP financing structure to be announced in the coming months. This will enable international investors to back construction of social housing in the country for the first time.
The new €405 million initiative announced today follows a €300 million social housing lending programme agreed between the European Investment Bank and the Housing Finance Agency in December 2014. This supported construction of 1,302 new homes and retrofitting at 550 properties by eight different Approved Housing Bodies. Projects backed by the 2014 programme were located in Dublin, as well as Wexford, Louth, Meath, Waterford, Cork, Kildare and Galway.
Since 1973 the European Investment Bank has provided more than EUR 15 billion for investment to improve public services, key infrastructure and unlock new opportunities for Irish companies across the country.