Full speed ahead for 'Boland's Quay'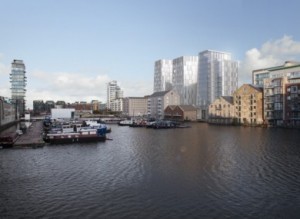 The planning was approved last July for the development of Boland's Quay, which is situated at the Boland's Mill site in Dublin's Docklands.
That significant progress has been made on advancing the project which is due for completion in 2018  said the Receiver of Savills, Mark Reynolds.
He said that abridgment works to remove the existing silos are well in progress and due for achievement in June.
By the end this month a specialist conservation contractor will also be appointed to restore the existing protected mill buildings which will be converted for commercial and residential use.
Boland's Quay will provide three new buildings comprising about 36,851 square metres of office, residential, retail and cultural space designed by Burke Kennedy Doyle.
The development will also involve the development of a new civic plaza looking onto the waterfront at Grand Canal Dock.