Green light set for €200m Ballsbridge block plan by Johnny Ronan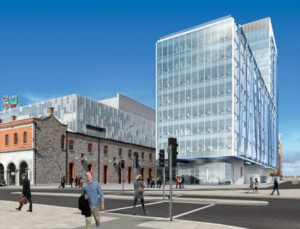 For the Dublin City Council the way could soon be plain to give developer Johnny Ronan planning approval for a €200m office block development at Ballsbridge.
The council elevated only traffic and servicing aspects regarding Mr Ronan's two office block development that will be six storeys high over three levels of basement.
Project Pegasus will be 52,247 sq m – over five times the 9,789 sq m in gross floor area of the existing four office blocks that are going to be demolished. When complete, the campus will have the capacity for 2,200 workers, said the supporters of the plan. AIB and An Taisce are just two of the parties to stick objections against the plan.
Nevertheless, in a request for extra information, the City Council has asked Mr Ronan's firm, RGRE Ballsbridge Developments Ltd, to only provide further traffic analysis and address an issue relating to servicing the site before it can make a decision.
Mr Ronan acquired last year the site bearing four vacant office blocks and surrounding land in front of AIB's Bankcentre building, opposite the RDS grounds on Merrion Road, for €67.5m.
The near four-acre site was sold by a receiver on behalf of Ulster Bank and Nama. It had been acquired by Carlow property developer Sean Dunne for a reported €200m in 2006.
AIB has retained planning consultants RPS to highlight 'serious concerns' the bank has over the nature and extent of the proposal.
The plan is "modest in scale" said the Planning consultants of Mr Ronan's firm to the City Council.