Housing Minister Turns Sod at Sligo Development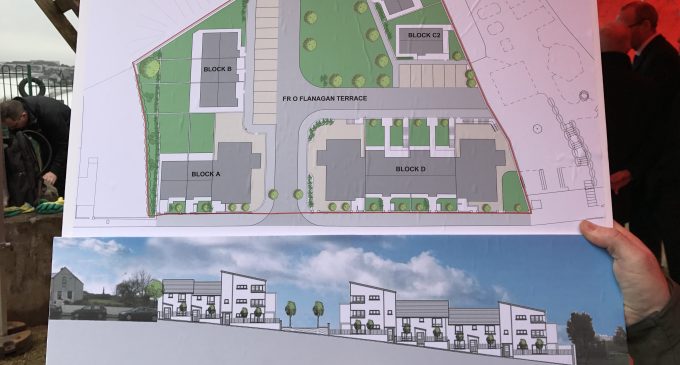 The Minister for Housing, Planning, Community and Local Government, Mr. Simon Coveney, turned the sod at a new development of 22 social homes at Fr O' Flanagan Terrace, Sligo, on Friday. The homes will be a mix of one, two and three bedroom houses and apartments, which are designed to achieve an A3 building energy rating, making them some of the most energy efficient houses in the town. The overall cost of the project is around €3.7 million and it will provide valuable construction activity in Sligo town.
Last year, Minister Coveney launched Rebuilding Ireland: Action Plan for Housing and Homelessness, which provides for the delivery of 47,000 social housing units through various means such as construction, returning vacant units to productive use, acquisitions, and leasing, involving both Local Authorities and Approved Housing Bodies. Funding of €5.35 billion has been made available to support the social housing delivery under the Action Plan.
Addressing the invited guests at the Sligo launch, Coveney said: "Delivery is now happening for social housing in a real way, and today is an example of that. We are getting projects approved and launched and nationally, we now have over 500 approved social housing projects that will give us around 8,500 new social homes, and we're constantly adding to that list".
The Minister urged Local Authorities to accelerate the delivery of housing units and make the most out of the major public investment that is going into housing. He also assured Local Authorities that the funding is there to support their efforts.