KES Group to Build State-of-the-art Manufacturing Facility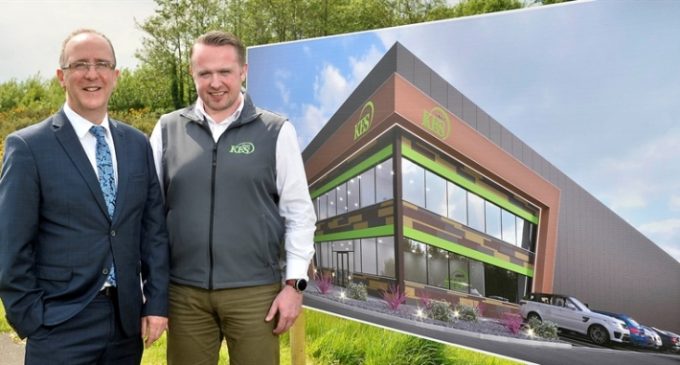 KES Group,  the renewable energy and modular building provider, is to make a multi-million pound investment in a new, purpose built, manufacturing facility at Strabane Business Park. The company has purchased circa 3.5 acres of land on the Invest Northern Ireland owned Business Park to accommodate their first phase of development.
Conor McCrossan, Managing Director of KES Group, said: "This is a very exciting time for our company. This new manufacturing facility at Strabane Business Park will be where we design, manufacture and develop our innovative products. We look forward to bringing our SmartBuild and Energi divisions under one roof. Providing a turnkey solution is integral to our business strategy. Each SmartBuild is bespoke in nature and designed to suit individual customer's needs. Our Energi division operates a class leading service supplying packaged plantrooms to some of the most prestigious commercial contracts throughout the UK and Ireland."
He added: "We approached Invest NI when it became apparent that our current facilities where no longer suitable due to the increase in demand. Invest NI offered Strabane Business Park as an option, and due to the location and infrastructure available it was in our best interests to invest in this area. Invest NI has been a great support and any advice we have received from them has made a great difference. We have been able to expand our team, grow our business and this now gives us the confidence to invest in our new state of the art factory."
Invest NI offered the company £92,850 in 2016 to create 18 new jobs and invest in marketing activity. All of the new roles are in place.
Des Gartland, North West Regional Office Manager, said: "This new 40,000 sqft factory is a significant investment by KES Group and will be a fantastic asset to Strabane and the surrounding areas. Working with companies as a business partner is a key strand to our Business Strategy. Our relationship with KES Group is a real example of this. We have been working closely with KES Group this past few years and have really got to know Conor and his fantastic team. It is great to see the company grow, and is the second company to invest in the Park in the last 12 months, we are delighted we have been able to provide the land they needed to make this next growth step."
CAPTION:
Pictured (L-R): Des Gartland, North West Regional Office Manager, Invest NI; and Conor McCrossan, Managing Director of KES Group.