Kingspan Powers Behind OFTEC's Call For Homeowners to Choose Double-Skinned 'Bunded' Tanks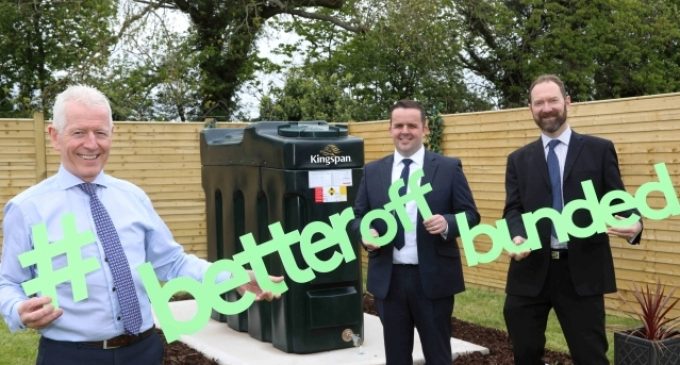 As one of Ireland's most established oil tank manufacturers, Kingspan is fully behind OFTEC's Bunded campaign which has been created to advise homeowners to replace single skin oil tanks with bunded oil tanks, for superior quality and safety of double-skinned bunded tanks. Bunded tanks differ from 'single skin' tanks due to their secondary containment tank, which is essentially 'a tank within a tank'. This means that even if the inner tank suffers a leakage, the secondary level of containment will prevent an external spillage, providing a high-level of safety.
As the training, standards and registration agency for the oil heating industry in Ireland, OFTEC's campaign has been designed to educate homeowners on the benefits of choosing Bunded, and why it's the best option for safety and prevention.
The OFTEC campaign highlights important messages including how costly accidental oil spillages can be, how they're often not covered under insurance, are extremely harmful to the environment and are the homeowner's responsibility.
A recent OFTEC report* highlighted potential remedial costs from insurance expert, Arachas, with cost predictions ranging from €400 (very minor spill) to multiple 000's for an extensive oil spill at a domestic home.  This is in addition to the environmental impact and potential for oil pollution within the water environment, and the costly loss of expensive home heating oil.
"In Ireland, oil heating is the premier fuel choice with approximately 700,000* homes fuelled by oil heating, which is why OFTEC's Bunded Campaign is so important to homeowners.  It's essential to treat oil tanks with the same care and attention as you would treat your heating system, and by choosing Bunded, homeowners have the reassurance that they have protected their home against spillages, oil theft and potential insurance claims," comments David McDonagh, Ireland National Sales Manager, Kingspan Water & Energy Ltd.
Kingspan is reiterating OFTEC's messaging and is encouraging people to prioritise their tank health and choose Bunded when replacing their tank. Mr McDonagh continues: "We are fully in support of OFTEC's call for a warranty passport scheme to protect the end user from potential cracks or leaks from their oil storage solution. At Kingspan, we offer a ten-year guarantee on all Bunded Tanks, and we would encourage homeowners to ensure they register their warranty and remain 'tank safe'."
Kingspan's bunded tanks are double layered for double the protection and deliver extra strength to store home heating oil, reinforcing that homeowners are #BetterOffBunded.
Kingspan has launched a free Tank Health Check pack, which is downloadable via www.kingspanenergymanagement.ie/tankhealthcheck. This simple guide will provide homeowners with the knowledge to assess the current health of their oil tank and make informed decisions if a replacement tank is necessary.
Kingspan's expert team are on hand to offer guidance for homeowners on the results of their tank health checks, deliver knowledge on tank safety and talk customers through the process of replacing their tank – from the choice of tank to the fitting and installation of their new bunded tank.
Kingspan offers an extensive range of Titan Bunded oil tanks, ranging from 650 – 9000 litres to suit all spaces. All of Kingspan's oil storage products are manufactured to the very highest of standards, have a 10-year guarantee and come with a Watchman oil monitoring device as standard.
For further information on OFTEC's Bunded Campaign, please see www.OFTEC.org.uk
*OFTEC Technical evaluation of the oil tank market in Ireland Report, December 2018
CAPTION:
Pictured (left to right): Pat Freeman, Managing Director, Kingspan Water & Energy Ltd; David McDonagh, Ireland National Sales Manager, Kingspan Water & Energy Ltd; and David Blevings, OFTEC Ireland Manager.