Mica redress: 'We just want our lives and our homes back'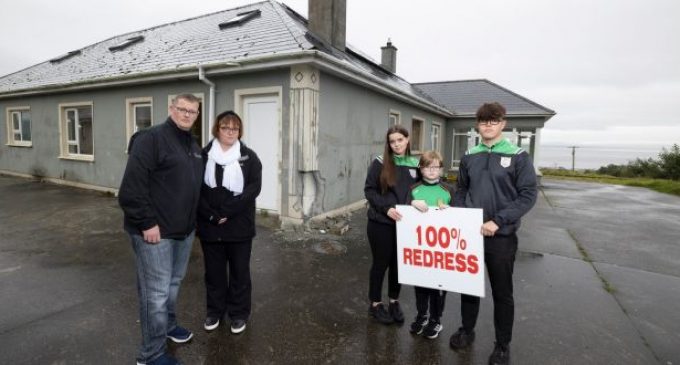 Donegal family, whose house must be demolished, ready for second Dublin protest
In Quigley's Point in Co Donegal, the Noone family has the placards ready. "I've already phoned the three children's schools and told them they won't be attending on Friday, they're for Dublin," says their father Noel Noone.
"The kids need to be able to say, we were affected by mica and we went to Dublin [to protest]. We were there."
This will be Noone's second time protesting in Dublin; a member of the Mica Action Group, he was among thousands who attended a first mass protest in June, but says the expectation in Donegal is Friday's protest will be even bigger. "There's a real groundswell of support out there."
His home is one of at least 5,000 in Co Donegal affected by defective bricks made of mica – a mineral that can absorb water leading to cracks and crumbling in blocks.
It was also used in the construction of at least 700 homes in Mayo, and may have been used in some other counties.
Campaigners want 100 per cent redress for families whose homes have been destroyed or significantly damaged by mica and have rejected the existing scheme – which offers a maximum of 90 per cent of repair and rebuild costs – as insufficient.
Minister for Housing Darragh O'Brien told the Dáil on Friday that full redress for families whose homes have been destroyed or significantly damaged by mica is still under consideration.
He said that "nothing, including the caps or the 100 per cent is off the table", adding that the changes would require legislation. He said he will bring proposals offering a number of options to Cabinet in the coming weeks.
'Forever home'
Noone and his wife Joan moved into their "forever home" in 2006, just days before their second child was born. "That's where we lived and that's where we made our memories."
They first noticed cracks a few years later, and in 2011 a relative noticed they were getting bigger. "There was moss and grass starting to grow in them."
An expert examined the house in 2014 and found "cracks running physically through the blocks… he was able to take his car key and actually pick the block apart, and he said in his assessment the blocks were defective."
The family can no longer live in their house, which is so badly damaged it must be demolished. "The cracks have opened up, one corner has actually come away from the house… the plaster has all fallen off, windowsills are lifting and spreading."
They moved out about a year ago to care for his father-in-law and remained after his death, where the wider family have agreed they can stay until they get their own home again; now everything is "on hold" while they wait to hear from Government on the redress scheme.
"We are fortunate enough that we're not actually homeless but the house had got progressively worse and we, at that stage, had to move on with trying to salvage what we could and putting it into storage and seeing what we could get fixed," says Noone.
"But when we started getting quotes back which were talking €100,000 on top of a mortgage on top of a grant scheme to fix the house – we can't afford that, it's not feasible."
'Living nightmare'
Noone's son is now 17, and his daughters are 15 and nine. "Hopefully one day I would love for them to live in their own home and have their own bedrooms and get on with their lives and not worry about mica."
Nine-year-old Eimear has already been to one protest, in Lifford, and is keen to come to Dublin on Friday. Noone describes the personal impact on the family and the stress of campaigning; it has been a "living nightmare" and "all-consuming", he admits.
"The older two know more about the financial strain and the impact it's been having on us as a family, knowing we have to watch the pennies and can't overspend, that we can't do this or that.
"We've been trying to shelter Eimear from it but with everyone talking about it, she's [asking], 'When are we going to get our own house'."
On Friday the family will stand together on the streets of Dublin; in June, Noone found it "overwhelming" to see so many people there supporting them.
"It made me proud to be from Donegal, the way people were dignified, we walked without major fuss or disruption, we had our protest and everybody made their way home, and there was nothing but compliments from gardaí.
"It does make you proud, we're not a crowd of thugs, we're not down here to make a thing, we just want our lives and our homes back. I want this nightmare to end."
Source: The Irish Times