NATIONAL CONSTRUCTION SUMMIT – 21st October 2021 – Sport Ireland Campus, Blanchardstown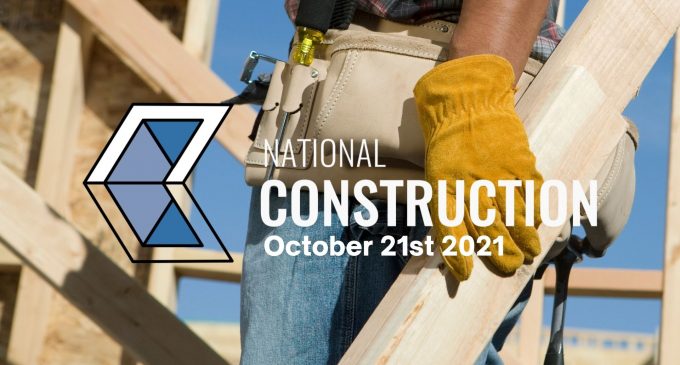 Be sure to register to attend the 6th Annual National Construction Summit which is being held on the 21st October 2021 at the Sport Ireland Campus, Blanchardstown.
The purpose of the National Constriction Summit is simple — Bring together over 2000 construction companies, developers, policy makers, project owners, building owners , government and municipal bodies, lenders & private investment firms, architectural and design firms, planners, facility managers, property managers, large industrial companies technology companies, legal & tax professionals, equipment and machinery providers, building material providers, professional advisors, energy and environment professionals — in order to stimulate debate, enrich knowledge and connect stakeholder's involved in the finance , design, construction and management of Irelands buildings, infrastructure and industrial projects.
This event is the perfect opportunity to bring together key figures in the construction industry, some of them coming together for the first time since Covid. So join your peers, and talk all things construction at this must-attend conference and exhibition.
Encompassing a number of complementary, co-located events along  with panel discussions, seminars, and keynote speakers. Featuring 200+ exhibition stands, showcasing the latest products, services and technology for the construction, engineering, sustainable building, maintenance and architectural sectors, the 2020 National Construction Summit will provide a forum for key stakeholders across the industry to gather to discuss pressing issues. It is also offers visitors the opportunity to enhance knowledge and to network with those involved in the finance, design, construction and management of Ireland's buildings, infrastructure and industrial projects.
Co-located Events
The co-located events being held under the umbrella of the 2019 National Construction Summit include:
Construction Expo
Smart & Green Building Show
Architecture, Design and Planning Expo
Government Administration & Procurement Summit
Health & Safety Live
The Infrastructure and Transport Expo
Lean Construction
The Power & Energy Expo
BIM
Facility Management & Maintenance Show
Passive Construction and NZEB
Modular & Offsite Construction
Comprehensive Conference Programme
A comprehensive conference programme, featuring 150 speakers, has been arranged by organiser Premier Publishing & Events. Topics to be discussed at the 2020 National Construction Summit include:
Planning
Facility Management
Energy Efficiency
Smart Buildings & Cities
Transport
Regulations & Policy
Sustainability
Infrastructure
Municipal and Government Projects
Technology & Innovation
Building materials
Architecture & Design
Urban Planning
Regulations & Policy
On the government front Maurice Buckley, Chairman of the Office of Public Works will be looking into the Ireland's 2040 Infrastructure Investment programme.
Enda McGuane, Managing Director of Winters Property will be letting the crowd know how residential and commercial operations will function in a Post Covid environment.
Another keynote speaker, Tom Moloney, Managing Director of Construction Information Services, will provide an overview of the construction market in Ireland – North and South – and the possible impact of Brexit.

Working at height in construction continues to be one of the leading causes of both serious and fatal accidents. Aisling Davis, Construction Policy Inspector at the Health & Safety Authority, will focus on some key areas of how to carry out work at height activities safely.

To register to be at this must-attend event, just go HERE.