STS Group Acquired by Dussmann Group of Germany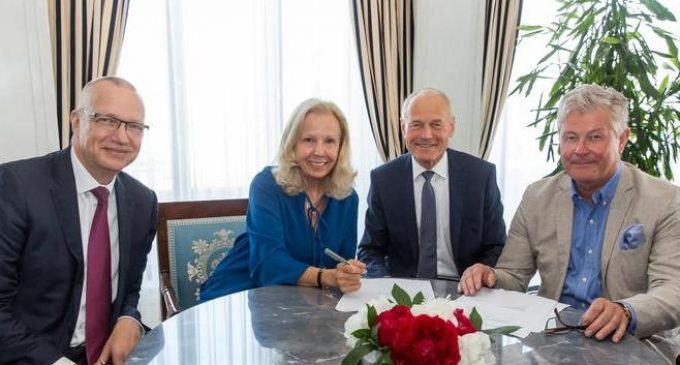 The international multi-service provider, the Dussmann Group of Berlin, has agreed to acquire Irish specialist engineering company STS Group. The deal is expected to be closed in June 2019 and is subject to approval of the German antitrust authorities. The parties have agreed to keep the purchase price confidential.
All the senior management of STS have agreed to stay with the Dussmann Group after the acquisition. This will guarantee continuity. All those involved in the deal see strong opportunities for growth.
Eddie Walsh, Chairman of STS, sees great opportunities for STS clients and employees alike: "The combination of STS with the Dussmann Group provides an excellent opportunity for both our clients and the employees of the Company. Our clients will continue to enjoy the same level of superior service, delivering complex technical projects within time and on budget but post acquisition will also benefit from the increased scale and investment as part of a €2.3 billion turnover group. Similarly, our employees will find increased opportunity provided by the ambition of Dussmann for the company and the ability to generate new business in new regions and sectors. Myself, along with the entire senior management team are very happy to become part of the Dussmann Group and are excited by the opportunity that this transaction brings for all our clients and staff alike"
STS was advised by Nicholas O'Gorman, Director Davy Corporate Finance, who commented: "This transaction represents a great deal for all parties and will underpin the future of a highly successful Irish company as part of a thriving and well capitalised group, with huge ambitions for growth in the sector."
STS is an electrical & instrumentation services design, installation and commissioning company principally serving the Pharmaceutical, Medical Device, Data Center, Commercial, Transportation and Power Distribution Sectors. With its global headquarters in Waterford, Ireland, STS has commissioned multiple projects for blue-chip clients across Ireland, mainland Europe and the Middle East. STS is a leading player in its sector with an established track record in commissioning complex technical projects for its clients. In 2018, the company had annual sales of approximately €150 million and employs over 700 people across its operations.
Dr. Wolfgang Häfele, Dussmann Group Executive Board Spokesman, comments: "We recently announced the progression of the 'Dussmann Next Level' strategy program, the establishment of a new business unit, Dussmann Technical Solutions, or DTS, and the finalisation of a major strategic acquisition. I am now happy to announce that we have entered into a binding agreement to complete that deal with the acquisition of STS. STS is a high-quality technical services provider, operating across multiple regions with a blue-chip client list. This business will be the cornerstone for the creation of DTS and complement our existing technical engineering services offering, that is refrigeration and air-conditioning with DKA in Germany, and elevator systems with HEBO also in Germany."
The Dussmann Group's strategy program 'Dussmann Next Level' is progressing well thanks to its focus on profitable growth and strategic acquisitions such as STS. Central to the strategy was the expansion of the Dussmann Group's existing core business of Facility Management with an enhanced and complementary focus on specialist technical services, and thus reinventing itself in the process.
The STS deal follows the acquisition of Gaetano Paolin, an Italian technical services provider in 2018. Gaetano Paolin installs and services air conditioning, ventilation, refrigeration and heating systems, electrical and mechanical systems and provides servicing and after-sales services. There are also further complementary acquisitions planned.
The Group's vision for DTS foresees solutions for all technical systems and the entire building and system life cycle. Services will span from design, technical planning, installation, maintenance, repair and operation from a single source. These services will be provided for clients with complex technical demands and critical systems such as data centres, hospitals and also the pharmaceutical, medical device, chemical, semiconductor, food, automobile and energy industries.
DTS will establish a new divisional head office in the German city of Frankfurt/Main to coordinate a roll-out of services across the region and where appropriate, incorporate resources from STS, DKA, and HEBO to the benefit of clients. The existing operations of STS will remain an independent subsidiary within DTS and all staff and employees of STS will be unaffected post acquisition. The senior management team of STS, headed by the Company Chairman, Eddie Walsh and Managing Director, Richard Hogan will remain with STS in their existing roles post acquisition.

CAPTION: