20 Trainees Accepted onto Ireland's First Builder's Merchants Sales Traineeship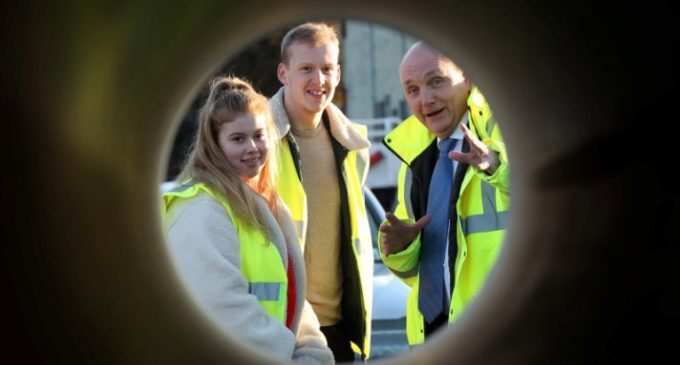 Grafton Merchanting ROI, Ireland's largest builder's merchant, has announced 20 trainees have been accepted onto Ireland's first Builder's Merchants Sales Traineeship programme. The QQI accredited programme, which is run by Grafton Merchanting ROI in conjunction with the Dublin and Dún Laoghaire Education and Training Board (DDLETB), aims to create a pipeline of skilled entry level Trade Sales Advisors within Grafton Merchanting ROI brands including Chadwicks, Heiton Buckley, Davies and The Panelling Centre.
This news follows a recent report from the ERSI which stated Ireland's construction sector will need a major boost to employment numbers if housing supply is going to meet demand . The traineeship is being piloted in Dublin this year with a view to being rolled out nationwide in 2019.
This Traineeship has been launched by Grafton Merchanting ROI to ensure there is a consistent supply of highly trained staff with top class knowledge levels to service customer's needs in an expanding construction market.
The inaugural class of trainees consists of 17 men and 3 women. Throughout the 26-week traineeship programme, each trainee will gain the skills and knowledge needed in trade sales to have a long and successful career.
Trainees will receive training in customer service, retail sales, IT skills, health and safety, and stock control as well as mentoring from experienced staff in their chosen branches. Trainees will also receive a Safe Pass Card and a Manual Handling certificate. *
On-the-job learning will then take up the remainder of the course time with participants assigned to mentors in their chosen branch. It is anticipated that Grafton Merchanting ROI will take on the 20 trainees across their Dublin branches as part of this programme. All trainees will be offered interviews with Grafton Merchanting ROI at the end of the programme.
Speaking at the announcement CEO of Grafton Merchanting ROI, Patrick Atkinson said: "The Builders Merchants Sales Traineeship programme has been launched during a significant period of growth for Grafton Merchanting ROI, with upgrades to current stores taking place this year and next. We pride ourselves on the level of industry knowledge and relevant educational history our employees have, and as consumer demand continues to grow, this traineeship facilitates Grafton Merchanting ROI to add a consistent stream of new, educated and hardworking staff into our various stores across the country.
"Grafton Merchanting has a proud history of providing people, both first time job seekers and experienced professionals, with career opportunities. We provide staff with the best merchanting education possible and strong career growth opportunities within the organisation, and have a tremendous employee retention as a result. We look forward to working with the inaugural group of trainees and wish them the best of luck for their upcoming traineeship."
CAPTION:
Patrick Atkinson, CEO of Grafton Merchanting ROI, pictured (far right) with Wayne Gilmore (centre) and Lauren Doyle (left), two trainees on Ireland's first Builder's Merchants Sales Traineeship programme.