Boston Scientific's Galway Office in Building of the Year Awards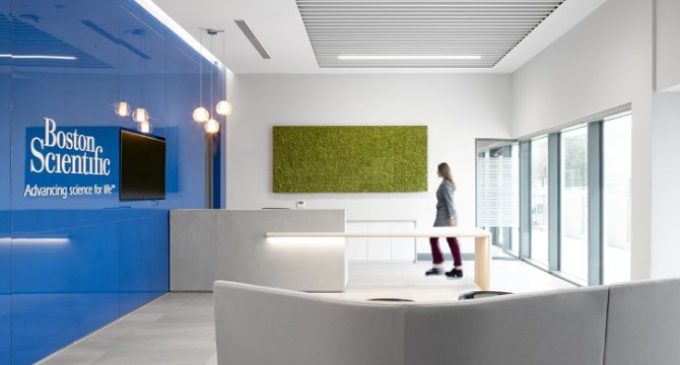 Boston Scientific's Galway office conversion has been shortlisted in the 'Building of the Year' Awards in the Commercial and Building Refurbishment categories. The 'MOD 1 Building 2' development involved renovating and re-purposing a large 1970's industrial warehouse into a state-of-the-art, light filled and sustainable corporate office space.
"We are delighted to be shortlisted for the Building of the Year Awards. This was a fantastic project, full of great challenges.  The design team worked with Boston Scientific's Corporate Guidelines and core values to develop an environment that is functional with high design qualities drawn from its original industrial character, while also promoting workplace health and wellness," said Niamh Peare, Project Architect, PM Group.
PM Group provided design, project management, construction oversight and LEED consulting services on the project.
The winners will be announced at an awards ceremony on 3rd October 2019 at the Mansion House, Dublin.
This state-of-the-art office expansion in Galway captures Boston Scientific's commitment to its core values, providing a positive, inspiring, happy and healthy workplace.
PM Group was appointed to repurpose and convert a large 1970s industrial warehouse into a productive and creative workspace. Working within Boston Scientific's global guidelines, the design team wanted to develop an environment that promotes workplace wellness. The design incorporates a full upgrade of utility services and has a goal for LEED certification aligned with the client's core value of promoting a healthy workplace.
PM Group's services included architecture, engineering design, procurement, project management, construction oversight and LEEP AP. Completed in 2018, the project was delivered in 22 months from detailed design to handover.