Chadwicks Group Launches Free National Tradesperson Check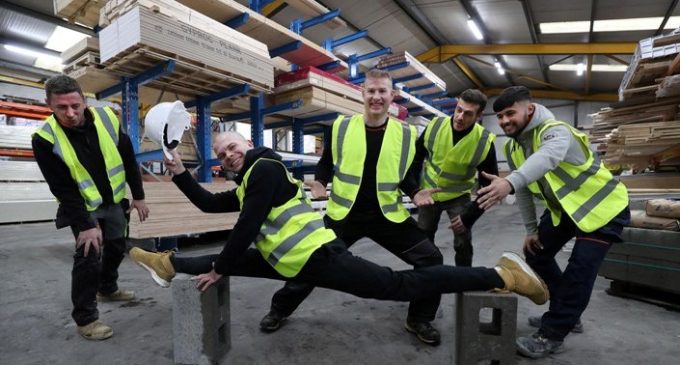 Almost half of tradesmen (42%) do not go for a yearly health check-up and 38% regularly suffer aches and pains due to the physical demands of their job. That's according to new research from Ireland's leading building merchanting company Chadwicks Group.
The survey of 343 tradesmen in Ireland into their health habits reveals back pain is the most common complaint for those in the industry with 83% experiencing this issue due to their job. 43% complain of sore knees, a third (34%) experience shoulder pain and a quarter (26%) have neck pain.
In response to the research findings, Chadwicks Group has launched a new nationwide health check for tradespeople across 12 of its locations including Chadwicks, Heiton Buckley, Cork Builders Providers and Telfords. The National Tradesperson Check or NTC for short will offer Chadwicks customers a free health check in branch in partnership with HealthWatch. The health screening takes just 15 minutes and will cover; height, weight, BMI, blood pressure, and finger-prick test gauging total cholesterol and glucose levels.
Taking place from 20th January to 18th February, the first NTC will take place in Chadwicks Sandyford, County Dublin. Customers can register in advance via buytickets.at/ntc or simply arrive at their participating branch on the day the NTC is taking place.
Feeling the pain
According to the Chadwicks Group research, over three quarters (78%) say they have had to have physio or other treatments for their work-related ailments. Two thirds have missed a day or more of work due to work-related illness or injury and almost a quarter (23%) admit to working through illness so they don't fall behind on a job while 18% do so as not to miss a day's wages.
Finding the time for fitness
Over 1 in 4 of those polled (26%) work more than 60 hours a week while just under half (42%) work 50 hours a week on average.
Given the long working hours, it's no surprise that over a third (39%) of those questioned say they do not exercise regularly. Over half (51%) feel they get enough exercise at work while 23% say they are too tired in the evenings, and a further 23% claim they simply don't have the time.
Eating on the job
While half (48%) of tradesmen say they have a good diet, 15% admit to skipping breakfast and 9% give lunch a miss. Only 24% say they bring their lunch and for those who eat on the go, the deli counter is a firm favourite with those in trade (51%). 17% admit to snacking on junk food during the day with a chocolate bar or packet of crisps being the snacks of choice.
Commenting on the survey results Patrick Atkinson, CEO of Chadwicks Group said: "At Chadwicks Group, we know that working in a trade is not only a physically demanding job but also a busy one and finding the time to go for a health check can be difficult. This January we want to help our customers prioritise their health by providing free health checks for tradespeople across the country in our branches nationwide. The health checks will be available across January and February and we would encourage all of our customers to come in and avail of this service."
Helping launch the initiative builder and Chadwicks customer, Pete Finn said: "I am delighted to partner with Chadwicks Group on this fantastic initiative.  Having worked in the industry for 25 years I know that many of us are guilty of not looking after ourselves and balancing the physical demands of the jobs.
"As most tradespeople are self-employed, looking after your health is so important as the research shows that many tradespeople work through illness not only because they are up against deadlines but also due to the worry of missing a day's pay.
"This January, we're calling on tradespeople across Ireland to take some time out for themselves and make their way to their local Chadwicks branch to avail of a free health check. It's quick and simple and what better way to kick off a new year than making your health a top priority."
To find out more information or to register for The National Trade Check please visit buytickets.at/ntc
| | |
| --- | --- |
| Date | Branch |
| Monday 20th January | Chadwicks Sandyford |
| Tuesday 21st January | Chadwicks Sandyford |
| Wednesday 22nd January | Heiton Buckley Robinhood Rd |
| Thursday 23rd January | Heiton Buckley Robinhood Rd |
| Friday 24th January | Chadwicks Thomas St, |
| Monday 27th January | Chadwicks Coolock |
| Tuesday 28th January | Chadwicks Lucan, |
| Wednesday 29th January | Chadwicks Naas |
| Friday 31st January | Chadwicks Bray |
| Tuesday 4th February | Heiton Buckley Ballysimon (Limerick) |
| Wednesday 5th February | Heiton Buckley Ballysimon (Limerick) |
| Thursday 6th February | Chadwicks Mallow |
| Friday 7th February | Chadwicks Mallow |
| Tuesday 11th February | Telfords Portlaoise |
| Thurs 13th February | Chadwicks Galway |
| Fri 14th February | Chadwicks Galway |
| Tuesday 18th February | Cork Builders Providers Togher |
CAPTION:
Peter Finn (RTÉ's Home Rescue builder and Chadwicks customer) pictured with his team – Damien Hartnett, Robbie Doherty and Glenn Killian along with Marcin Miller – taking the boys through their paces at the launch of the Chadwicks National Tradesperson Check.