Ethos to create 150 new jobs in Ireland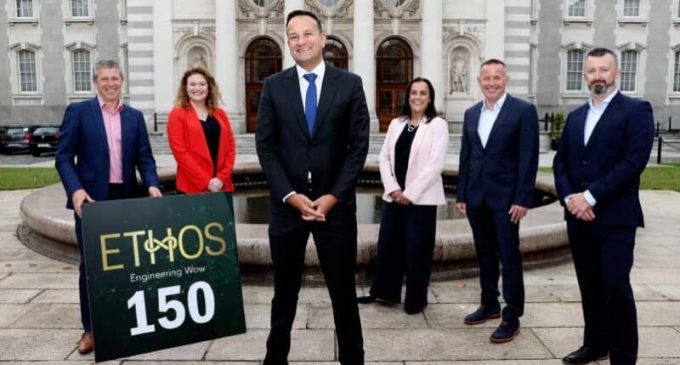 Ethos has announced that it is to create 150 new jobs in Ireland in the next four years as part of Going for Growth, its ambitious national and international EMEA expansion programme that includes doubling revenues to €30m by 2025.
Recruitment has already commenced for engineers and administrative staff at a time when today, the company reveals a new pipeline of work in Ireland, Germany, United Kingdom, Netherlands, France, Switzerland, Italy, Norway, Sweden, Poland and Kenya.
The firm has also re-structured its business to focus on six key areas of expertise, each with responsibility for delivering its part of Going for Growth. They are – Data Centre Design, Urbanism, Regional, Sustainability, Digital Services (Smart Buildings) and Global Tech. As a result, a new generation of leaders will work alongside the executive management team to help the business scale to its next level of growth and development.
With its HQ in Dublin, a regional office in Galway and work sites throughout the continent, Ireland's Engineering Firm of the Year in 2020, 2019 and 2018, already employs a team of more than 110, including 100 engineers plus technical staff. Notably, since the start of the pandemic, the firm has hired more than 40 new staff. In addition, Ethos EMEA design work is supported and localised by its presence in 13 EMEA countries through its membership of the First Q network of 3,000 MEP engineers.
Tánaiste and Minister for Enterprise, Trade and Employment, Leo Varadkar said: "Today's announcement of 150 new jobs, in Ireland and abroad, is great news for Ethos and for the Irish construction sector which, after a really difficult period, is growing and will be in high demand for years to come. Congratulations to the team involved and the very best of luck with this expansion."
Data Centres
Between completed and current projects, Ethos has designed, delivered and provided master planning services for 45 data centres, including 23 in Ireland. In total, that represents 1451.2MW of data centre design. To date, the firm has also completed 9.6 million sq. ft. of office space (including shell & core and fitouts), 4 million sq. ft. of mixed-use developments, 14 Linac Accelerators, 8,562 residential units, 7,200 student beds, 2,000 dwellings, 1,700 hotel beds, 1,100 prison cells, 3,000 healthcare beds and 30 operating theatres – in Ireland and internationally.
The firm was established in 2005 by CEO Greg Hayden, Executive Director, John Coroner and Executive Director, Colm Devin. Today, they lead the business with a management team that includes highly experienced Directors, all leaders in their respective fields.
Ethos pioneers the latest building simulation software and have fully accredited BREEAM, LEED, WELL and Building Energy Rating (BER) assessors in addition to experienced energy auditors.
New Brand Identity
As part of today's announcement, the business has unveiled a new brand identity, dropping Engineering from its title and focusing on Ethos, the name by which it is commonly known in the industry.
Source: Irish Building Magazine