Hagan Homes commences Phase 3 of Enler Village development in Northern Ireland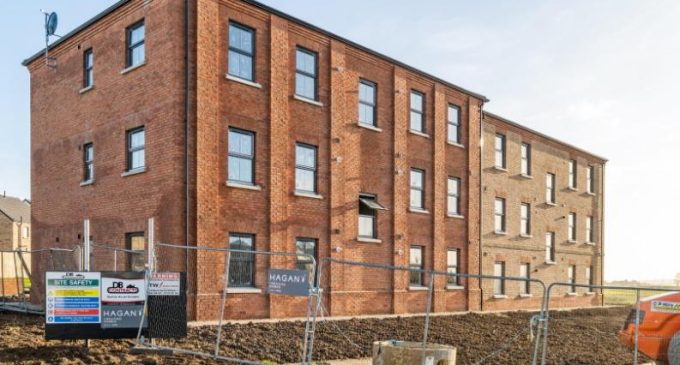 Hagan Homes, the award-winning company that has built over 5000 homes across Northern Ireland since 1988, has begun Phase 3 of its Enler Village development in Comber, County Down, representing a £9.5 million investment. This significant milestone marks the company's participation in its largest project to date, building on the success of Phase 1 and Phase 2 of the scheme. Enler Village is the work of a consortium project that commenced in 2018. It features 900 homes across a 112-acre site.
Once completed, the Enler Village development in Comber will provide for not just 900 homes, but a business park, nursing home, sheltered accommodation, creche and retail units. Additional features include linked pedestrian facilities with Comber Town Centre, a decorative focal monument on Coarse Hill and an extended salt marsh.
The Enler Village, Comber Consortium of construction companies includes Hagan Homes and Antrim Construction Company (ACC). Collectively they have invested £150 million in the project.
The Hagan Homes development, off the Newtownards Road and just minutes from Comber town centre, is a mix of two-bedroom apartments, three-bedroom townhouses, and semi-detached and detached homes, with pricing for these homes ranging from £185,000-£225,000.
Phase 3 brings forth an additional 56 homes, further enhancing the vibrant community that Enler Village has become. The visionary design of this phase incorporates the latest Ember PS Smart Heating Control System, USB double sockets, and an extensive electrical specification while each kitchen in this development features underlighting, floor-level mood lighting, and various appliances. These are just a few of the modern elements in the scheme.
White-fitted bathrooms and ensuites, thermostatically controlled showers, and high-quality ceramic tiling add more convenience and style.
James Hagan, Founder and Chair of Hagan Homes, said: "We are thrilled to unveil our ambitious plans for the third phase of the Enler Village development. It offers residents the opportunity to live in the desirable countryside village of Comber while enjoying a wealth of amenities, facilities, and activities. With our meticulous attention to detail and a team of top architects and building professionals, Enler Village guarantees a home of which to be proud.
"After a meticulous four-year journey, we are thrilled to embark on this third stage, extending a warm invitation to prospective homeowners eager to embrace the beauty of this location and the modern convenience of our homes."
To date, Hagan Homes has completed 56 homes in Phase 1 and 2, with each phase executed seamlessly. Phase 3, comprising 56 additional homes, is now in progress, and the first homes are expected to be completed by March 2024.
The efficient construction process will create 50 jobs, contributing to the growth of the local economy.