Ireland and France begin construction work on 'Celtic Interconnector' and sign joint energy declaration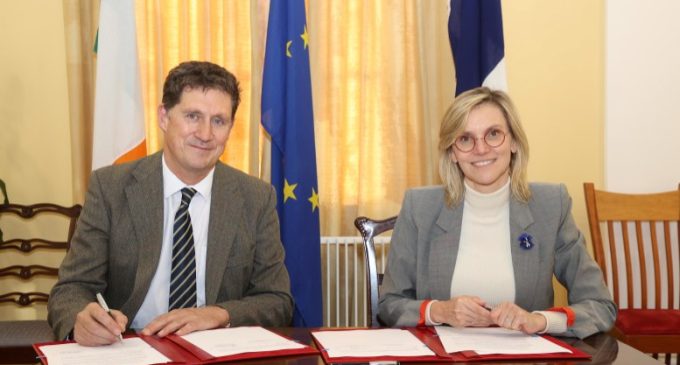 Construction work on the Celtic Interconnector project has commenced. The start of construction on the project signifies an important step forward for the energy future of both countries. The Celtic Interconnector is a high-voltage subsea power cable that will link the electricity grids of Ireland and France. It will include enough capacity to power 450,000 homes and will create a direct electricity link from Ireland to the European Union.
EirGrid, the state-owned transmission system operator (TSO), is working with its French equivalent, Réseau de Transport d'Electricité (RTE), to deliver the 700-megawatt submarine cable, with connection points between the southern coast of Ireland and the northwest coast of France. The project is due to be completed in 2026 with integration to the grid expected by 2027.
Electricity interconnectors provide a way to share electricity between countries and the role of interconnection will increase in importance as the renewable energy sector becomes a larger proportion of supply in the Irish and European electricity system. The Celtic Interconnector will also form part of the Offshore Network Development Plan, intended to develop an integrated energy system for European energy markets. The European Commission is contributing  €530.7 million from the commission's Connecting Europe Facility (CEF) to help complete the design and delivery of the project. Contracts for the Celtic Interconnector were signed in November 2022, in Paris. The acknowledgement of the start of construction on the project by both Minister Ryan and Minister Agnès Pannier-Runacher, coincides with a visit to Ireland by the French Prime Minister, Élisabeth Borne, to Dublin on 13 November.
Ireland and France sign Joint Declaration of Intent on 'Energy Transition Cooperation'
On 13 November, Ireland and France also signed a Joint Declaration of Intent on 'Energy Transition Cooperation'. The declaration provides a framework for the mutual willingness of both countries to accelerate the decarbonisation of energy systems, and is part of a wider collective ambition for Europe to become the first climate neutral continent by 2050.
The Joint Declaration of Intent also builds upon existing commitments set out in the 'Ireland France Joint Plan of Action 2021-2025', adopted by both countries in August 2021. The joint action plan set out several priority projects in a number of areas, including efforts to support sustainability, with a focus on 'renewable energy'. It signals greater co-operation on on-shore wind and solar development and a commitment to accelerating the deployment of offshore renewables and energy systems, including intensifying cooperation bilaterally and regionally in the North Sea.
Welcoming the commencement of construction on the Celtic Interconnection project, and the Joint Declaration of Intent, Minister for the Environment, Climate and Communications, Eamon Ryan (pictured left), said: "What we have set out in this declaration makes clear that both Ireland and France will be central to wider European energy plans. The commencement of construction on the Celtic Interconnector project marks an important part of our wider energy ambitions. Increased electricity interconnection will be a key enabler in our growing use of renewable energy will also help lower energy prices and play a central role in Ireland's journey to a net zero power system. It will also better integrate European electricity markets, and by using more diversified energy markets, this will improve our electricity security and resilience."
French Energy Minister, Agnès Pannier-Runacher (pictured right), said: "The joint declaration on energy I will sign with my Irish colleague Eamon Ryan will deepen the working relations between our two ministries. I will also be thrilled to inaugurate the Celtic Interconnector, which will increase the security of supply both for Ireland and France and contribute to the decarbonisation of our electricity mixes. This visit will enable us to prepare our future work together: this involves in particular our preparation of COP28, but also our joint co-chairing of the International Energy Agency ministerial in February 2024. Finally, I would like to thank the Irish technicians at ESB networks, who came to France recently to help repair the recent damages of the Ciaran storm."