Modular Housing urgently needed to address crisis – Engineers Ireland
A much higher level of modular housing is badly needed to address the housing shortage crisis, according to Engineers Ireland's Director General, Damien Owens (pictured above). Speaking at the organisation's recent National Conference, held at University College Dublin's O'Reilly Hall, Mr Owens said that it is clear that modern methods of construction, which utilise modular units or panels built off-site to allow for the fast delivery of houses, at scale, would be needed to meet housing demand.
Mr Owens's comments come as Dr Ronan Lyons, Associate Professor of Economics at Trinity College and member of the State's Housing Commission, told the conference that the number of homes that must be delivered to meet current demand 55,000 to 74,000 per year, roughly twice the Government's target of 33,000 homes per year, outlined in the Housing For All strategy.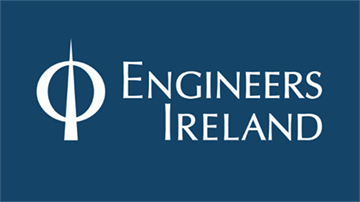 The discrepancy between targets and actual need is in part, Dr Lyons said, due to a long period of population growth exceeding official projections.
"Over the last seven years, Ireland has tracked a 'high migration, low fertility' scenario, but its housing targets are based on a low-migration scenario, something that has not reflected reality," Dr Lyons commented.
Last month the Central Statistics Office revealed that the population of the State stands at estimated at 5,281,600, a jump of 97,600 people, or 2% of the population, in a single year, largely driven by high immigration.
"The failure of housing targets to take adequate account of immigration is contributing to a housing shortage. This, in turn, has meant that Ireland's younger adults have been forced to delay forming their own household, something that has a host of consequential impacts on public policy and has resulted in Ireland having one of the largest average households in Europe with children frequently remaining in the family home well into adulthood," Dr Lyons added.
Mr Owens, pointed out that advantage should be taken of modern methods of construction that can help to rapidly alleviate pressure on the housing market, while improving sustainability in construction.
"There are great advantages to be gained from growing the volume of offsite-manufactured homes to significant levels, including better and more innovative design and faster construction. The key beneficiaries should be those households seeking better value for money, better quality, and higher amenity in their homes, while adopting these approaches can also help drive down the cost of building.
"Additionally, with such construction methods, fewer deliveries of materials are often required with only what is needed is brought to site, so waste can be greatly reduced, while pre-fabricated modular elements can be created from more sustainable materials," he explained.
"The present target of 1,500 modular homes to be constructed by the end of next year does not utilise the potential of this technology. By comparison roughly eight out of every 10 detached houses in Sweden are built using these modern methods of construction, demonstrating the scale this approach can achieve."