Office space for 30,000 workers to be built in Dublin this year as post-Covid return looms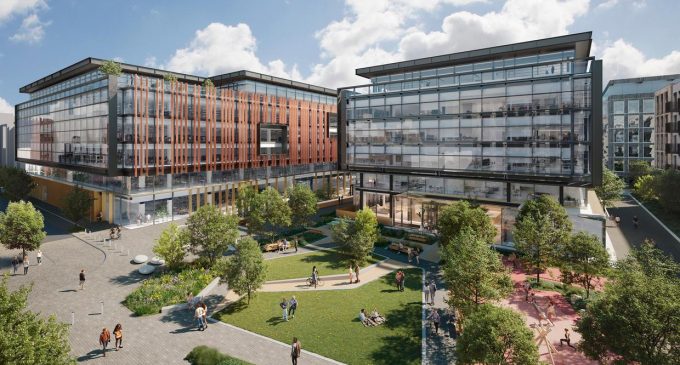 Savills says that take up has been good, although the Central Bank of Ireland warned recently of the danger of oversupply.

Enough office space to accommodate 30,000 people will be completed in Dublin this year, according to estate agency Savills.
The 196,000 sq m of space across 33 office buildings represents a 35pc increase on the amount of space that came to the capital's market last year.
The extra space comes despite the likelihood that many office-based workplaces are likely to adopt hybrid employment models after the pandemic, with staff splitting their working time between their homes and offices.
Savills said that 77pc of the new offices coming on stream this year in Dublin have already been pre-let.
And of the 198,000 sq m of office space due to be delivered in 2022 in the capital, 50pc has already been pre-let, according to the property firm.
"As we enter the reopening phase of the economy, we expect to see a continued rise in demand for space, especially new environmentally friendly buildings, as occupiers start to return to the office and formulate long-term occupational strategies," said Sean Ryan McCaffrey, associate director at Savills.
The agency said that newly-developed offices across Europe are set to provide 26pc more space this year over 2020. But average vacancy rates in cities such as Berlin, Stockholm, Amsterdam and Paris will fall below 6pc, making for competitive leasing environments.
Savills also pointed out that following uncertainty that stalled take-up of new office space in 2020 due to the pandemic, that stock is being taken up by tenants.
It said that 53pc of that office space that came to the market in Dublin last year is now either pre-let or agreed with occupiers. That compares to just 35pc of the stock that had been allocated during 2020.
But a report from the Central Bank of Ireland last month noted that the pandemic is likely to affect the future outlook for the office sector as remote working remains a feature.
"The vacancy rate for the Dublin office market increased to over 9pc at the end of 2020 from approximately 5pc in 2019 with structural changes such as an increased instance of remote working likely to have a greater influence on the office sector over the coming years," the report noted.
It added that following a 50pc decline in office letting activity last year in Dublin, less than 4,000 sq m of space was taken up in the first quarter of 2021. That was 63pc lower than on the previous occasion when first-quarter take-up hit an all-time low, in 2009. That was during the financial crisis.
"An increase in the willingness of companies to facilitate their staff to work remotely, accelerated by the Covid-19 shock, will likely affect requirements for office space going forward," the Central Bank noted.
"Much will depend on what companies and employees decide is the optimal split between working from home and time spent on site," it added.
It warned that the Dublin office market could be at risk of oversupply, with 1.7 million sq ft of space at various stages of delivery, including being under construction, having planning permission or applying for planning.
Among the major office developments where construction has just begun in Dublin is Kennedy Wilson's Coopers Cross, a city quarter being developed in conjunction with Cain International. It's located beside the Central Bank headquarters. 
Source: The Independent