Quintain secures planning permission for Cherrywood's first village centre in Dublin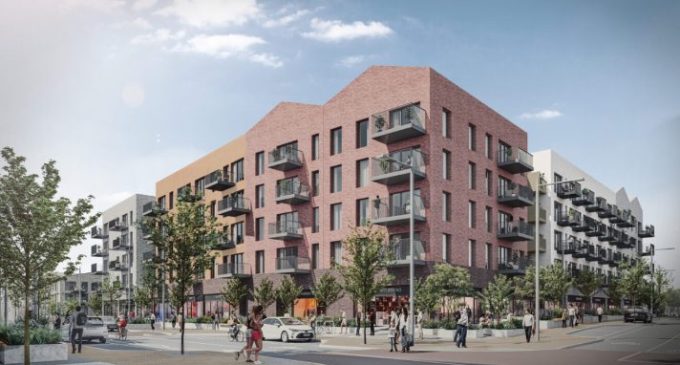 Quintain Ireland, which is focused on the development of residential and commercial property in the Greater Dublin area, has secured planning permission for Cherrywood's first village centre. The property company's exciting plans for the new development – Cherrywood Village Centre – have just been approved by Dun Laoghaire Rathdown County Council with construction due to begin next year.
The soon-to-be delivered development has been carefully planned to provide much-needed retail, social and leisure amenities in what is one of Dublin's fastest growing suburbs. It will allow Cherrywood's increasing number of residents the opportunity to shop, socialise and relax locally within convenient walking distance of their new homes.
The mixed-use development, designed by architects Urban Agency, will be located on a 2.7-acre site and feature a new village green. It includes a 2,700 sq m supermarket, eight retail units, five food and beverage units, three business units and 200 sq m of internal community space. It also includes 148 build-to-rent one and two-bed apartments with retail and residential car parking.
Ranging from three to five-stories, the development will be centred around a new Cherrywood Village Green and will come with outdoor public, private, and communal residential open spaces.
Located off Gun and Drum Hill Road and near to Tully Park, it is the first of a number of planned urban villages to be delivered as part of the Cherrywood Strategic Development Zone (SDZ) Planning Scheme.
Construction is due to start next year and the village centre should be completed by late 2026.
Quintain Ireland is one of the country's largest residential and mixed-use developers. It is in the process of delivering over 3,000 homes and 27 acres of green space in Cherrywood as part of its Cherrywood Village masterplan.
To date, Quintain has invested €156 million in Cherrywood. A total of 136 homes have already been completed and are occupied, a further 215 are under construction. The company has planning permission for a further 1,459 while it is currently seeking planning approval for 445 with more to come.
Michael Hynes, co-managing director of Quintain Ireland, said: "The new Cherrywood Village Centre is a much-needed development and we are delighted to have received planning permission for it. Designed and due to be delivered to the highest standards, it will be a fantastic setting for residents to meet, shop, relax and spend time outdoors. There will be a village green, a major supermarket, cafes, restaurants and a number of shops and businesses in addition to community spaces.
"At Quintain Ireland our mission is to create exceptional and affordable places to live, which are at the forefront of design, placemaking and sustainability. This involves the delivery of a high number of homes, but we are acutely aware that we need to build communities too. We strive to deliver quality amenities and quality open spaces alongside quality housing and Cherrywood Village Centre is a great example of how we achieve this."
Cherrywood Village, the area being developed by Quintain, is located on a 65-acre site within the Cherrywood SDZ and aims to be the most connected village in Ireland. It has been designed to create a diverse new community that is easily accessible by public transport, with a strong emphasis on sustainable development that protects existing heritage sites.
Laughanstown Luas Station is located next to the community with major employers nearby including Vodafone and Microsoft in Sandyford and Dell and Elavon in Cherrywood Science and Technology Park.
The area has a number of schools and Quintain has already developed two parks as part of Cherrywood Village. Beckett Park, which is now under the management of Dun Laoghaire County Council, features a host of amenities such as all-weather sports pitches, tennis courts, jogging tracks, a boules court, an outdoor gym, playground, and a sports pavilion while Tully Park is a more relaxing setting, built around early Christian monuments and Tully Church, which dates from the ninth century.
In addition to planning permission for the village centre, Quintain has also just secured permission for 55 homes in its T3 section of Cherrywood Village including 21 two, three and four-bedroom houses and 34 two and three-bedroom duplexes. These are included in the figure of 1,459 above.
Cherrywood is a rapidly-expanding area and the SDZ zone is approximately 360 hectares in size in total. Nestled at the foot of the Dublin Mountains, it is strategically located between the M50 and N11 transport corridors about 8km south of Dún Laoghaire town centre. 
A number of developers are delivering homes in the Cherrywood area with over 2,000 completed so far and a planned total of about 10,500. Quintain expects to have delivered between 2,700 to 3,000 homes in total within the next five years.