Novi Enables Flynn Management & Contractors to Construct From the Cloud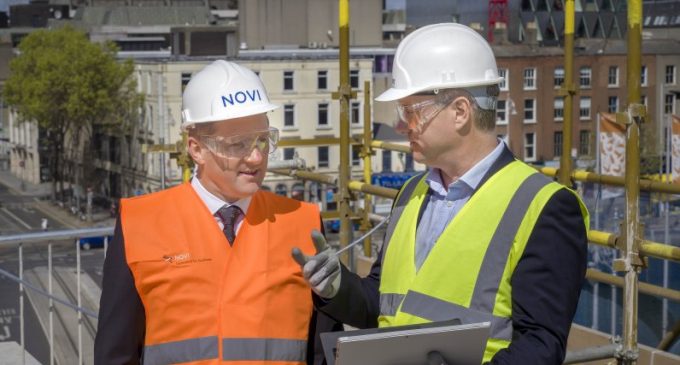 Novi, the cyber security and proactive IT provider, has carried out a €250,000 upgrade of construction solutions provider Flynn Management & Contractors' IT infrastructure. The project enables the contractor to leverage advanced, resource intensive applications such as Building Information Modelling (BIM) in its developments for the first time to speed up construction times. It has also improved cyber security while facilitating remote working for Flynn MC's employees.
Flynn Management & Contractors is a construction solutions provider that works across a variety of sectors, including commercial, retail, leisure and hospitality, life science, healthcare and industrial. The company has grown rapidly since being established in 2004 and now employs 150 people and is targeting revenues of €150 million in 2018. It has worked on a number of high-profile and critically-acclaimed projects including the redevelopment of Bewley's Café on Dublin's Grafton Street, the complete shell-and-core refurbishment of Cumberland House, and comprehensive upgrade works on the distinctive Irish Life building and public plaza.
As Flynn MC has continued to grow rapidly it requires access to technologies and systems that allow it to more complete projects with maximum efficiency. Rather than maintaining an in-house IT team, the contractor outsources all of its IT needs. Following a consultation with the contractor to enable remote working for its employees, Novi quickly demonstrated how leveraging additional technologies could be beneficial to the Flynn MC's future growth.
Novi worked closely with Flynn MC to implement a cloud infrastructure that would provide the contractor's employees with remote access to the most up-to-date information about ongoing construction projects. This also enabled Flynn MC to utilise BIM to generate a digital representation of construction projects, allowing for potential design discrepancies to be identified at the planning stage. This leads to significant cost and time savings throughout the course of a project.
Novi took steps to improve the contractor's level of security and protect systems from advanced threats. It implemented a Fortinet Firewall cluster to protect against incoming cyber-attacks alongside its new vulnerability and threat management service, PatchGuard. PatchGuard simplifies the patch management process to further reduce risk by ensuring that all systems, irrespective of their location, are kept up-to-date and secure against malware and associated threats. Centralised patch management helps Flynn MC to eliminate the risk of a breach occurring due to a failure to manually update systems to counter known exploits.
Derek Murphy, finance director, Flynn Management & Contractors, said: "The growth in complexity of IT systems in recent years has led to the costs associated with maintaining an in-house IT function to skyrocket. For this reason, at Flynn MC we made the decision to completely outsource IT requirements. We only work with the best, and Novi's proactivity and expertise has added real value to our business. We don't have to worry about being constrained by our IT systems; instead we can scale rapidly without barriers safe in the knowledge that Novi is there to support our growth. Embracing the cloud in this project gives us additional flexibility and we're looking forward to putting this new technology to the test as we take on more new projects, both in Ireland and abroad."
George O'Dowd, managing director, Novi, said: "Flynn Management & Contractors is responsible for some of Ireland's most iconic construction projects. It takes a truly innovative approach to construction and views technology as an essential tool. Following this project, Flynn is now living in the cloud; its employees can now work remotely from any location and be guaranteed of complete access to their files. As well as this, moving their systems to the cloud allows Flynn MC to take full advantage of game-changing applications such as BIM to deliver projects more efficiently and collaboratively, optimising the outcome and delivering greater value to their clients every step of the way."
CAPTION:
Pictured (L-R): are George O'Dowd, managing director, Novi; and Derek Murphy, finance director, Flynn Management & Contractors.