€20 Million Office Development Launched in Cork City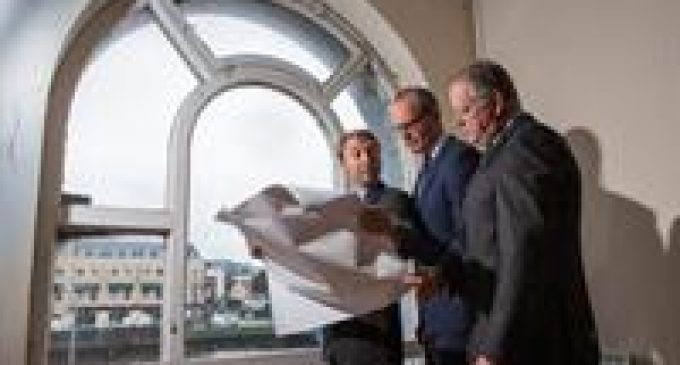 A €20 million office development at Camden Place will provide 150 construction jobs with up to 500 jobs coming on-stream in Cork city centre on completion, the Cork Chamber of Commerce announced on Thursday. Demolition will commence in February, with work on the 65,000 square foot of lettable floor space expected to take 12 months.
Award-winning Cork architecture firm Boyd Barrett Murphy-O'Connor (BBMOC) has designed the statement building, which will lead the rejuvenation of the city's northern quays. The contemporary development by Stone Work Properties Ltd incorporates the much-loved existing Venetian-style façade into a 21st century glazed exterior.
Welcoming the news, Minister for Housing, Planning and Local Government Simon Coveney said the Camden Place redevelopment will strengthen Cork as a key location for global commerce: "This exciting project is very welcome news for Cork city, a city which has emerged from the downturn as a global centre of commercial excellence. It will cement the city's position nationally and internationally as an attractive location for multinational enterprises and indigenous enterprise. Developments, like this one at Camden Place, will ensure the Cork region not only attracts but retains investment, business and jobs."
The five floors of world-class office space will be capable of hosting 500 employees and is available to let. Camden Place faces the Cork Opera House and Emmet Place and is adjacent to Apple's city centre location and the popular Huguenot Quarter. Large floor plates, as favoured particularly by the FDI and Tech sectors, range from 9,000 square foot to 16,500 square foot. The building shall be built to achieve the highest global standards with LEED environmental accreditation and incorporates the most efficient and sustainable methods. The building is also adjacent to the Carrolls Quay multi-storey car park, where 100 parking spaces will be made available.
Sean Healy, Director at Cushman & Wakefield, said: "Camden Place is an ambitious project that will redefine Camden Quay and encourage further investment in the area. The new offices will attract global corporates as well as local businesses, who will be enticed by the contemporary office space, the good city centre location and proximity to Cork's business district, social areas and connection to air, rail and bus links."
The Camden Place redevelopment takes place at a time of increased demand for office space in Cork. The city has become a favourite with multinationals seeking to locate in Ireland, and in more recent years in city centre locations in order to attract suitably skilled staff. This is due in part to the lower costs involved compared with Dublin, and convenient access to skilled graduates from University College Cork and Cork Institute of Technology, and the wider southern area. Cork's reputation for an attractive life-style and affordable cost of living is another huge draw for corporates seeking to create a workforce in Ireland.