Energia Group Agrees €44 Million Debt Finance Package For New Bioenergy Plant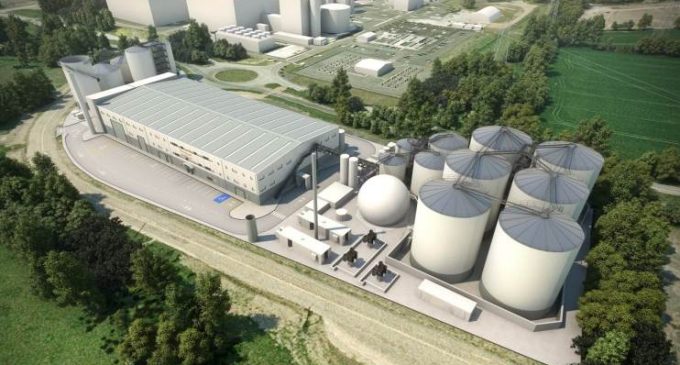 Energia Group, one of Ireland's leading energy providers and infrastructure investors, has agreed a €44 million debt finance package with Allied Irish Bank plc for its bioenergy plant currently being completed at Huntstown in north County Dublin. The debt finance package includes a term loan of €38.6 million and ancillary facilities of €5.4 million. It is part of an overall investment of around €50 million by Energia Group in its environmentally friendly new plant.
Energia's new Bioenergy Plant, located beside the company's existing two major power stations at Huntstown in north Dublin, will begin full operation by the end of 2019 and will generate 4.8 Megawatts of electricity per hour.  The plant has been connected to the national grid's electricity distribution system.
Energia Group's CEO Ian Thom said: "It has been a pleasure to work with AIB to procure debt finance for this project during construction, which is a first for Ireland.  We are committed to delivering renewable and sustainable projects for Ireland. We are now providing a long term renewable energy solution utilising a portion of Dublin's waste."
CEO of AIB, Colin Hunt said: "AIB is strongly committed to the renewables sector and climate action, and we are delighted to be working with Energia on this important project which will generate renewable electricity while efficiently dealing with both residential and commercial organic waste streams."
The bioenergy plant, which will have an annual capacity of up 100,000 tonnes, will use anaerobic digestion to convert organic waste such as garden and food waste, into methane rich biogas which will then be used to generate renewable electricity.  Elements of the material remaining after the process can be used as organic fertiliser for crops and gardens. When fully operational, it will be one of the largest anaerobic digestion plants on the island of Ireland. The project supports Energia's ambition to be the leading producer of bioenergy in the all-island energy market.
Energia recently announced a commercial agreement with Panda to process a minimum of 70,000 tonnes of organic waste annually at the bioenergy plant. Panda will begin supplying organic waste to Energia from June 2019 as the environmentally friendly new plant begins its commissioning phases.  The waste will come from Panda's black and brown bin collection services across the Greater Dublin Area. The overall processing agreement with Panda is expected to be worth up to a total of €50 million to Energia.
The balance of organic waste will come from a number of sources in the greater Dublin area.